Great Falls — Democratic challenger Kristin Cabral faced off with Rep. Frank Wolf (R-10) at the Great Falls Grange Tuesday, Oct. 23, in a community forum designed to answer questions about the next two years of the 10th district.
In Fairfax County, the new district contains parts of McLean northwest of Dolley Madison Boulevard, all of Great Falls and parts of Oak Hill and Chantilly.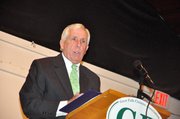 Wolf, who has represented the district since elected in 1980, said he is running based on his past accomplishments, and his knowledge, which will help get things done in the future.
"I will continue to be a fighter for this congressional district, whether it's creating jobs, dealing with our nation's debt and deficit, dealing with terrorism and other crime issues, fixing regional transportation problems," he said. "Working together in a bipartisan manner is how I have approached my job… I have never signed any political pledge to any lobbyist, and I never will."
THE DEBATE was filled with many Wolf supporters, but many from outside of Great Falls.
"I know the district has changed shape, but I think Frank Wolf is still very intimately aware of the problems we face, and not only can he solve them on the federal level, he is connected enough locally that he can help there," said Andy Colitas of Chantilly. "I don't think he says things he doesn't mean, and I applaud the way he has balanced the needs of this community with his federal government responsibilities."
Cabral said she is running for office because the 10th district needs a change.
"I am running to bring fresh leadership to a broken Congress. A congress that is mired in stalemate and gridlock," she said. "Growing the American dream means increasing educational and job opportunities… and this is done by ensuring access to such opportunities to those in need."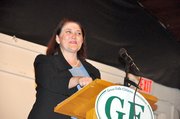 Cabral is a resident of McLean, and a trained lawyer who has worked as a federal prosecutor, a clerk for a federal judge and taught legal writing at Georgetown University.
Some at the forum said they believed Cabral was a first step toward finding a congress that can get things done.
"Congressman Wolf said himself that he had supported legislation on term limits, so I'm not sure why he doesn't follow his own example," said Ernest Muya of McLean. "This district has changed so much in recent years, and with a lot more to come, and I feel like Kristin is our chance to enact that change."
OTHERS SAID while they liked Cabral and thought she made some good points, that she isn't ready to represent the 10th district at the federal level.
"She seemed like a very nice, very accomplished, very intelligent lady, but I felt she was a little out of her league," said Annie Childress of McLean. "Frank has done a lot of good, and laid out his future plans, but I feel like Ms. Cabral only said she would 'fix' the problems, without giving many examples. And as the challenger, I think she needs to provide those."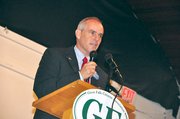 Independent candidate Kevin Chisholm did not participate in the forum, but spoke for several minutes before it began. Chisholm, an engineer with a background in environmental sciences, said "It's such a mess in Washington, such a wreck, and it has been for a long, long time, in terms of fiscal things and priorities" he said. "I hear this hyperbole in national politics and it just sickens me."
He said the military, and much of the federal government needs to "trim its belt," citing his government experience as an example of the government's inefficiency.
"I send, and you all send, a lot of tax dollars to the U.S. government, and we want value," he said.