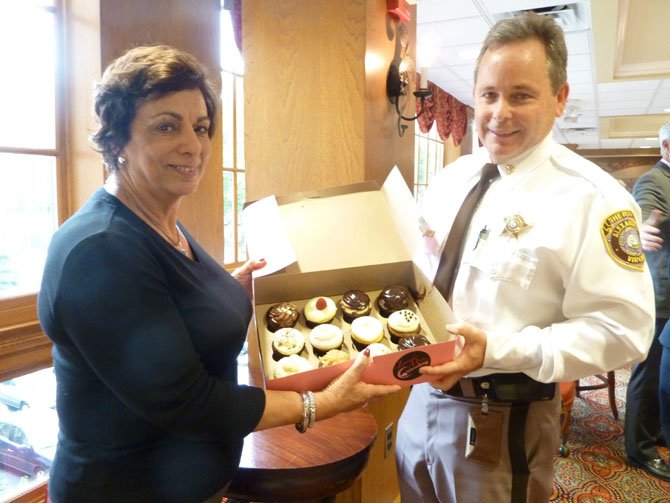 Alexandria — Like most women, Ede Thomas was hesitant to reply when asked her age.
"I'm 93," Thomas whispered. "But don't print that. I still tell everyone I'm 35."
Retired since 1987, Thomas has been a volunteer for the Meals On Wheels program for 25 years. Along with other volunteers, she was honored for her service Oct. 18 at the Senior Services of Alexandria volunteer appreciation luncheon at The Fountains at Washington House.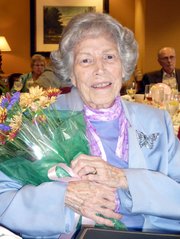 "I thought I needed to do something worthwhile when I retired," Thomas said. "So I started delivering meals with Westminster Presbyterian Church. I am the coordinator there now but always enjoyed delivering the meals, seeing the people and really getting to know and talk to them."
First started in 1976, Meals on Wheels is a life-sustaining program that prevents malnutrition and starvation amongst home-bound seniors by delivering two prepared meals each morning. Currently available six days per week, the program will begin delivering meals on Sundays in mid-November.
"Our volunteers are the eyes and ears of this city," said program coordinator Dolores Vieham. "They don't just see that our seniors don't go hungry. They see that they are safe at home."
Individuals as well as teams from local businesses, churches and organizations like the Alexandria Rotary Club, Jaycees, Sheriff's Department and Lyles-Crouch PTA were honored at the event, which featured a keynote presentation by Inova Alexandria nutrition expert Elizabeth Ramirez.
"I always wanted to do this," said Lois Ancona, an Alexandria resident since 1961. "My mother and grandmother delivered Meals On Wheels so it was only natural for me to do it. I really love getting to know the people I meet and realize sometimes I may be the only person they have to talk to."
Senior Service board chairman Greg Murphy used the occasion to talk about the upcoming launch of a Friendly Visitors program.
"Our Meals On Wheels volunteers are not just bringing food, they are bringing human contact and friendship," Murphy said. "We are looking to provide that contact through a new Friendly Visitors program."
Upwards of 70 homebound seniors receive delivery of meals through the program, which is jointly funded by the City of Alexandria, the Ronald M. Bradley Foundation and Alexandria Yellow Cab.
"Everyone is so nice," said Thomas, who has no plans to cut back on her volunteer work. "From the people who receive the meals to the people I work with, I am so blessed that I got involved with Meals On Wheels."
For more information, contact Meals On Wheels manager Jeannine Purdy at 703-836-4414, ext. 12 or mealsonwheels@seniorservicesalex.org.