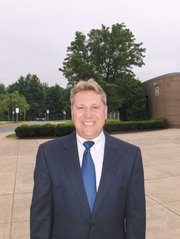 There's a new person at the helm of Robinson Secondary School—one well equipped for the job. He's Matt Eline, who was an assistant principal at Fairfax High for four years and principal of Rocky Run Middle School the past three years.
He found out June 21 that the school board approved his appointment, and it was announced last Monday, June 24, at both schools. His first official day at Robinson will be July 8.
"I've loved being principal at Rocky Run—it's been very fulfilling—and I'll miss the relationships I've built with the parents, students and teachers," said Eline. "But I'm really excited for a new challenge, and I can't think of a better place to be than Robinson Secondary."
Raised in the Berkshires, in western Massachusetts, Eline initially wanted to be a doctor. He did a pre-internship at a hospital, but discovered he didn't like blood. However, he enjoyed working with people, so his father—who taught chemistry—suggested he take an education class at the University of Massachusetts. Part of it was observing teachers in school, and he was hooked.
"There's a certain adrenaline rush when you develop a lesson and see children learn it and the light bulb go on," said Eline. "There's such satisfaction working with kids and seeing that. It's incredibly rewarding, and that's what appealed to me."


HE BEGAN by teaching middle school science in Massachusetts and then spent two years in the Peace Corps, teaching five subjects at Mogol High School in Papua, New Guinea. Being there, he said, made him appreciate American culture and values even more and gave him a better understanding of different cultures. Said Eline: "You realize diversity's a good thing."
"It takes a lot to run a school nowadays, and making it a high-flying school is even more challenging."

—Matt Eline
He then taught science at Thomas Jefferson Middle School in Arlington and biology at Hylton High in Woodbridge. Next, he designed and implemented the first virtual high school for Prince William County Public Schools and, as its principal, he nurtured the growth of 14 online teachers.
But Eline missed interacting with students so, from 2003-2006, he served as assistant principal at Brentsville District High School. Then came the positions at Fairfax and Rocky Run.
Among other things at Fairfax, he was responsible for the academic achievement, administration and discipline for all 11th-graders; as a result, he reduced the number of expulsions and suspensions there for three consecutive years. And under his leadership at Rocky Run, several teams of math and science students won state and national championships, and the school, itself, received the Governor's Award for Educational Excellence, all three years.
Eline's wife Belinda teaches music at a Prince William County elementary school. He's also a dad to four boys, stepsons in college, plus twins, almost 7. The move to Robinson was a family decision, and Eline says they all support it.
"I'm going to one of the best secondary schools in the state," he said. "It has a great staff, supportive community and motivated students. And one of the things that attracted me was to have a bigger impact on students all the way from seventh through 12th grades."
A middle-school principal just has two years with the students. "By the time you get to know them, they're leaving," said Eline. "So this gives me a longer time to establish relationships. I'm especially interested in that transition from eighth to ninth grade. It's difficult for some students, and I believe I have the experience and interest to help kids with it."
"If they're going to become disillusioned, negative or disengaged from high school, it's in ninth grade," he explained. "So we've got to make really sure they feel like they belong and we can hook them in and engage them in education. With Robinson Secondary, it's built in, and I think it helps that I've worked in both high schools and middle schools."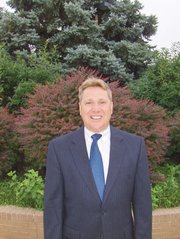 Eline's also ready to work with more students and staff and a larger community. Rocky Run has 1,024 students, but Robinson has 2,700 in secondary school and 1,200 in middle school, for nearly 4,000 total.
Furthermore, he's looking forward to being at a school with sports teams. "Sports bring out students' passions when they feel deeply about participating," he said. "And for a lot of students, that's what keeps them interested in being in school. They also learn a great deal from being on a team."
Speaking of sports, Eline has news about Robinson's head varsity football coach. The job, open since November, will go to Danny Meier—whose former teams won three state championships and who became Robinson's interim coach after recently retiring as its principal.
"Absolutely," said Eline, adding, "He's got to win, though. Danny's a legend and he makes a difference for kids. He's only a positive, and I'm looking forward to picking his brain about the school, since he was the principal for 10 years. I think he was an incredible leader, and I'll try to keep some of the fun and motivating traditions he started. Coming to a new school, it's important to be a great listener, learn the traditions and take time to get to know people."


BESIDES LEARNING about Robinson's culture and community, he also believes it's important to be diligent about bullying. But, he said, "I need to find out what's already in place there to address it." He also plans to make sure his goals and visions are reflected in the administration team which, in turn, will relay them to the teachers.
Eline received several e-mails from Robinson staff, congratulating him on his selection as principal. And last Friday, June 28, he was introduced to teachers, parents and students there and received a warm welcome.
He said being a principal is the hardest job he's ever had, but also the best. "It's demanding; everybody wants your time and attention," said Eline. "It takes a lot to run a school nowadays, and making it a high-flying school is even more challenging. But I love meeting the students, being part of their lives as they grow up and being a positive influence on them."