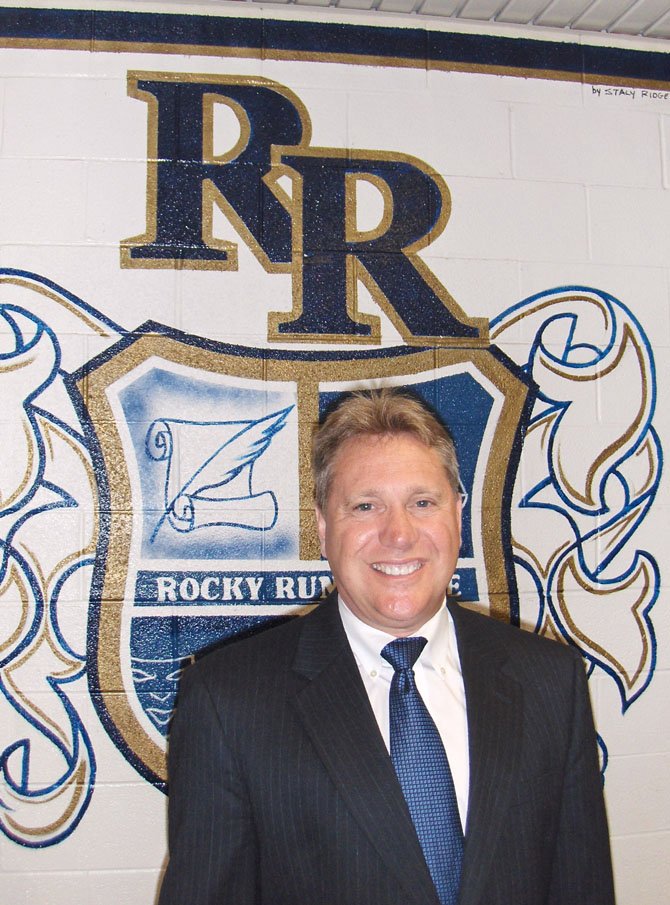 Centreville — Under Matt Eline's leadership at Rocky Run Middle School, several teams of math and science students have won state and national championships, and the school, itself, received the Governor's Award for Educational Excellence, three years in a row.
But he's now moved on to become the new principal of Robinson Secondary School. And since he was an assistant principal at Fairfax High for four years and principal of Rocky Run, the past three, he's well-equipped for the job.
Eline found out June 21 that the School Board approved his appointment, and it was announced last Monday, June 24, at both schools. His first, official day at Robinson will be July 8.
"I have a lot of mixed emotions," he said. "I've loved being principal at Rocky Run — it's been very fulfilling — and I'll miss the relationships I've built with the parents, students and teachers. But I'm really excited for a new challenge, and I can't think of a better place to be than Robinson Secondary."
Eline's wife Belinda teaches music at a Prince William County elementary school. He's also a dad to four boys, stepsons in college, plus twins, almost 7. The move to Robinson was a family decision, and Eline says they all support it.
"I'm going to one of the best secondary schools in the state," he said. "It has a great staff, supportive community and motivated students, so there are lots of similarities between it and Rocky Run. But one of the things that attracted me was to have a bigger impact on students all the way from seventh through 12th grades."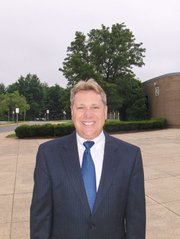 A middle-school principal just has two years with the students. "By the time you get to know them, they're leaving," said Eline. "So this gives me a longer time to establish relationships. I'm especially interested in that transition from eighth to ninth grade. It's difficult for some students, and I believe I have the experience and interest to help kids with it."
"If they're going to become disillusioned, negative or disengaged from high school, it's in ninth grade," he said. "So we've got to make really sure they feel like they belong and we can hook them in and engage them in education. With Robinson Secondary, it's built in, and I think it helps that I've worked in both high schools and middle schools."
Eline's also ready to work with more students and staff and a larger community. Rocky Run has 1,024 students, but Robinson has 2,700 in secondary school and 1,200 in middle school, for nearly 4,000 total. And he's missed being in a school with sports teams.
But he won't forget Rocky Run and everything the school achieved with him at the helm. "Winning the Governor's Award three years in a row — and the fact that we were one of only two high schools in the whole state that won it this year — says a lot about the school, staff and community," he said.
Eline's also pleased about the anti-bullying work Rocky Run's done. "And we infused technology into the classroom," he said. "The students bring their own [electronic] devices and log into our network. They're digital learners and we need to embrace that."
Once word got out about his new job, he received more than 400 e-mails congratulating him. "But it's not the number that's important — it's the relationships they represent," he said. "They came from friends, parents, colleagues, students, staff and even people I hadn't heard from in five years."
Many of them were also from Robinson staff. And last Friday, June 28, he was introduced to teachers, parents and students there and received a warm welcome.
He said being a principal is the hardest job he's ever had, but also the best. "It's demanding; everybody wants your time and attention," said Eline. "It takes a lot to run a school nowadays, and making it a high-flying school is even more challenging. But I love meeting the students, being part of their lives as they grow up and being a positive influence on them."
Reflecting on his time at Rocky Run, he's proud that the students "knew who their principal was at this school, and in a positive way. I was approachable for students and they knew I'd help them be successful. What I'll miss the most are the students and staff — there are some remarkable teachers at this school."