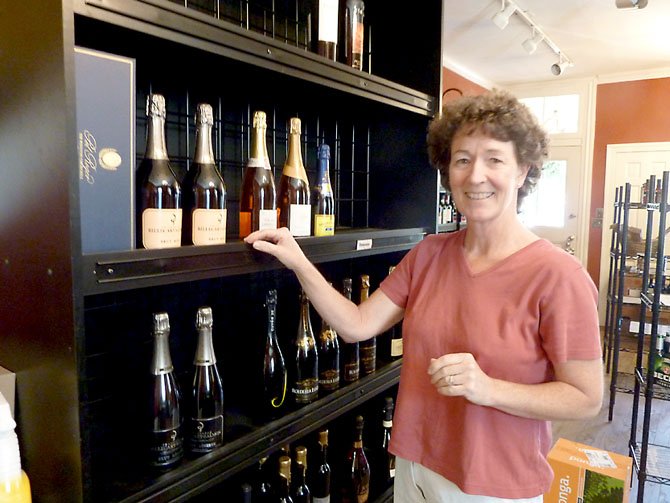 Alexandria — The Winery, a fine wine and gourmet food shop known for the personal touch of owner Jane Cahill, will be closing its doors Sept. 15 after more than a decade of serving the Alexandria community.
"Everyone has been so supportive," said Cahill, who has owned the South Washington Street shop for 15 years. "And I know the friends we've made here will continue to be our friends."
Cahill and her husband, retired army officer Tim Graham, have been living above the shop but found their dream home in the West End of Alexandria over Labor Day weekend.
"Everyone has been so supportive and I know the friends we've made here will continue to be our friends." — The Winery owner Jane Cahill
"We didn't want to lose the house so we made the decision to close the shop and make the move," Cahill said. "When we looked at the numbers, it didn't make sense to keep operating the shop if we weren't going to be living in the same building."
Cahill will continue to lend her expertise through consulting, private wine tastings and organizing wine dinners.
"I'm excited about this new adventure for me," Cahill said. "This move allows me to not have the restrictions of a retail shop. Now I can be more creative and more accessible to my clients."
Cahill praised her experience as a local business owner, noting the guidance and support she received from the Small Business Development Center's Bill Reagan, Stephanie Landrum of the Alexandria Economic Development Partnership and Peter Leiberg of the city's Planning and Zoning Department.
"I loved working with Bill, Stephanie and Peter," Cahill said. "They all helped me get started when I first opened and really do provide an invaluable resource here in the city."
For the last 13 years, Cahill has hosted an annual fundraiser for St. Ann's Infant and Maternity Home in Washington, raising more than $228,000 for abused, neglected and abandoned children and pregnant and parenting teenage women.
"Absolutely I will continue to do the St. Ann's event," Cahill said. "Only now I will be able to host it in my new home."
Cahill takes with her many memories of her years selling wine to local residents but one day in particular stands out.
"It was the best day of my life when Tim walked into my shop 12 years ago and I sold him a bottle of Fat Bastard chardonnay," Cahill said with a smile. "We've been married for 8 years now and are looking forward to the next chapter in our lives."
The Winery, located at 317 S. Washington St., will close Sept. 15. For information on private events, Cahill can be reached at jcwinery@erols.com.