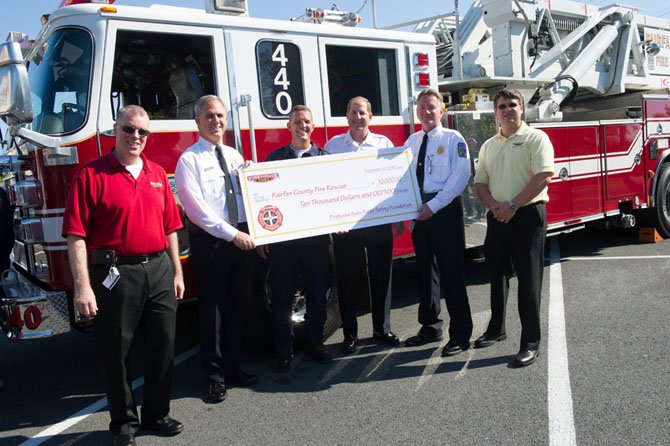 Centreville — When disasters nearly anywhere in the world trap people in buildings and under rubble, Fairfax County's Urban Search and Rescue Team is often called to find and rescue them. Now, thanks to a new piece of equipment called a telehandler, the team will be even better prepared for the task.
"It looks like a forklift on steroids," said Battalion Chief Chris Schaff, program manager for the team, called Virginia Task Force One (VA-TF1). "It gives you the ability to pick up stuff and also be able to boom out and reach out over a rubble pile while training."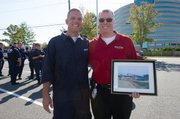 The telehandler cost $42,000 total. Women in Homeland Security, a Herndon nonprofit, donated $32,000, and Firehouse Subs' Public Safety Foundation awarded the team a $10,000 grant for the rest. On Wednesday, Sept. 12, it presented a ceremonial check to the Fire and Rescue Department.
The ceremony was in the parking lot of the Firehouse Subs in the Fairfax Towne Center in Fair Oaks, which raised the money for the telehandler via customer contributions. About 50 members of VA-TF1 were on hand.
Known for its submarine sandwiches, Firehouse Subs was founded in Jacksonville, Fla., in 1994 by former firefighting brothers Chris and Robin Sorensen. Years later, their family's 200-year firefighting heritage inspired the formation of the company's Public Safety Foundation to support public-safety entities throughout the U.S.
"In 2005, they went to Mississippi after Hurricane Katrina and were overwhelmed by the commitment of the firefighters they saw there," said Robin Peters, the foundation's executive director. "And they knew there's no fire department that couldn't use some help."
That year, Firehouse Subs created its nonprofit foundation to provide money, lifesaving equipment and educational opportunities to aid first responders. Since then, it's given more than $4.5 million to fire and police departments and EMS organizations, including more than $219,700 to public-safety entities in Virginia.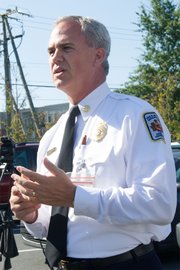 Donation canisters on register counters explain the foundation's mission and collect contributions. And each restaurant's roundup program allows patrons to round up their bill to the nearest dollar, while contributing the spare change to the cause.
At last week's ceremony, Peters said, "Driving up here today and seeing all the firefighters, it makes you feel really good — and very humbled. I'm here to say thanks."
She said the Fairfax Towne Center's Firehouse Subs is one of the top fundraising restaurants in the chain. She presented its franchisee, Mark Gilbert, with a certificate for having the system's number-one fundraiser in 2012.
But Peters gave the credit to the local residents. "People's small donations in our stores – a quarter here, a dollar there – add up to millions, and that enables us to do what we do," she said. "So we thank the people of Fairfax County for donating and making this possible."
Gilbert, in turn, praised his restaurant's general manager, Brian Hollenbach, who led the local fundraising efforts. Basically, said Gilbert, "We're giving back to the people who give back to us. When we ask our customers if they want to contribute to first responders, they say yes."
He said he's happy to supply food to VA-TF1 when it deploys and give small discounts to the firefighters when they come to his restaurant for lunch. "This store opened four years ago, but we're not just in business to do subs," said Gilbert. "We have a heart to give back to the community. Thank you, guys; this is what makes this job worthwhile."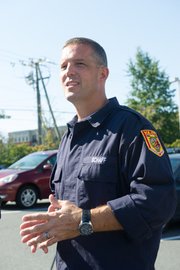 Next to speak was Assistant Fire Chief John Caussin. "To our men and women of Virginia Task Force One, this is an example of the importance of the service you provide and how it will come back to you twofold," he said. "Not only do you provide superior service in Fairfax County, but nationally and internationally. So on behalf of Chief Ron Mastin and the entire fire department, I thank you."
Noting how Firehouse Subs always supports the local firefighters, Schaff said, "I can call and say we need 80 sandwiches in two hours, and they're there." He then presented Gilbert and Firehouse Subs area representative Dan Lowe with a photo of the telehandler."
"We also want to thank you for all you do," Schaff told them. "This is above and beyond what we could ever have imagined. We look forward to developing this new equipment at our training site in Lorton."
Caussin said the telehandler will allow the firefighters "to replicate the real-life scenes they see at earthquake and other disaster sites so they're better prepared to deal with them." Schaff said it's critical to have this capability.
"We need to be able to change our training rubble pile so it's not the same pile and rescue exercise for the crews every time," he explained. "The telehandler keeps it dynamic so we can simulate different types of collapses with different materials. We can also bury metal in the pile so people can work with K9s to pinpoint a person hidden in the rubble."
Lowe said Fairfax County firefighters donated used gear, such as helmets, axes and other tools, to help Firehouse Subs decorate its restaurants since opening in this county in 2007. So the company was pleased to help fund VA-TF1's new piece of equipment. Added Lowe: "Aside from just doing the right thing and making our communities a safe place to live, it's been a great partnership."