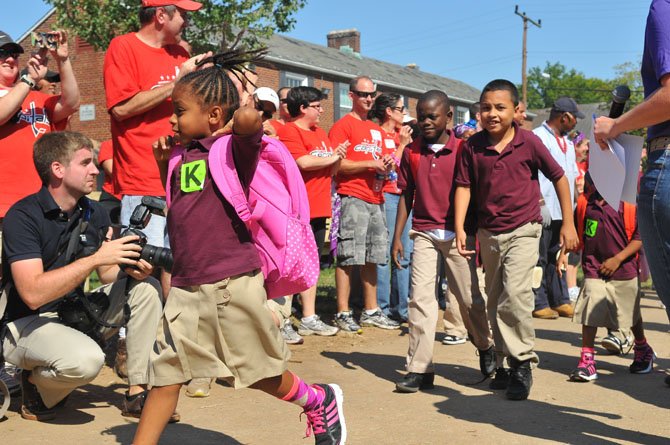 Alexandria — Activities started early in the courtyard at Hopkins-Tancil in Old Town on Thursday morning, Sept. 13. More than 200 volunteers sporting red Washington Capital's hockey t-shirts swarmed the playground preparing it for the day's work. The volunteers from the Washington Capitals, and the Alexandria Redevelopment and Housing Authority, organizers from KaBOOM! and residents joined together to build a new playground for the area children. On Aug. 15, resident children had participated in a Design Day at the Charles Houston Recreation Center. The young participants were asked to design and draw what they would like to see in the new playground. Ideas were culled and a design formed. Thursday, the design became reality as the work was completed by the time the children returned home from school at 3 p.m.
Photo Gallery
Playground: Done in a Day
Snapshots at Hopkins-Tancil in Old Town on Thursday morning, Sept. 13.
Click Photo for Flash
Mayor Bill Euille, members of City Council, Police Chief Earl Cook, Sheriff Dana Lawhorne, Fire Chief Adam Thiel joined members of the ARHA board of directors and Washington Capital's Mike Green, Nicklas Backstrom and Brooks Laich and radio personality Elliot Segal for a ribbon-cutting ceremony with the volunteers and children. After the ceremony, the playground was fenced off so that the concrete footings would cure. Three days later on Sunday, the fences were removed and the playground was officially opened.
Green and Segal founded "So Kids Can" program in 2008 to benefit youth-focused, nonprofit organizations. This season Caps forwards Backstrom and Laich also joined the cause. "So Kids Can" partnered with KaBOOM!, a national non-profit dedicated to saving play across the country. KaBOOM's signature project is a done-in-a-day playground. The new playground is the second facility built by KaBoom!, the Washington Capitals and "So Kids Can."