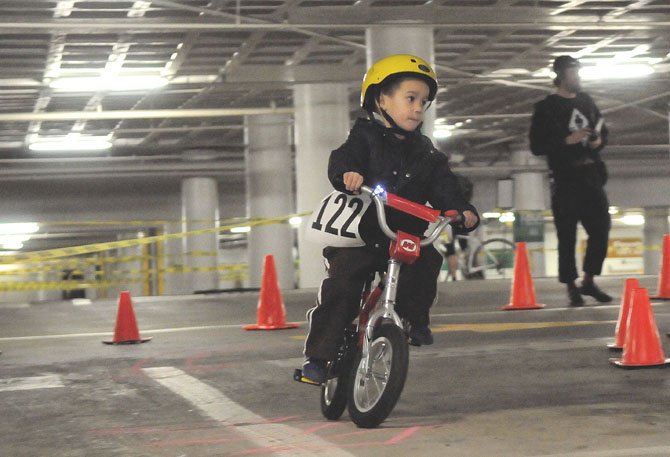 Arlington — Not the poltergeists but the Crystal City Diamond Derby. The event is back with an extra dose of extreme cycling and a fresh foray into cycling-inspired fashion shows.
Bike enthusiasts can participate in a nine-mile bike ride that culminates in an afternoon of music, art, drinks and amateur bike races in an empty parking garage. If you missed the first event in March then you missed what was perhaps one of the most unusual cycling events of the year.
Hosted by the Crystal Business Improvement District, in association with Vornado/Charles E. Smith, Dandies & Quaintrelles, Corhaus DC and Sciathan Productions, the event will again transform the parking garage at 2343 Crystal Drive in Crystal City into an urban cycling course on Saturday, Sept. 29, 2012 from 4-10 p.m.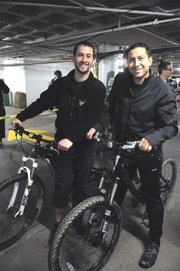 Participants of all ages will compete on a makeshift course, complete with obstacles and checkpoints. Those not interested in biking can entertain themselves at a custom-made "derby lounge," a gallery featuring the work of local artists and a cash bar with beer from New Belgium Brewing and the Scoutmob Cocktail while listening to music from DJ Smudge. Visitors can also satisfy their palettes with an infusion of flavor from Maketto, Impala Cantina Y Taqueria and DC Puddin'.
"We are trying to put a multifaceted cycling event for anyone who loves to bike. It doesn't matter if you are a pro, beginner or anyone in between," said James Kerns, race organizer.
The Derby kicks off with a free race for kids and the arrival of the D&Q River Ride, a fashion-fueled casual ride originating in D.C. New to the derby, cycling-inspired fashion shows organized by local designers Thembe Fashions and DC Flea. Hand-selected River Ride participants and professional models will be on the catwalk showing off cycle chic and vintage looks, along with their bikes, in separate runway shows. The best-dressed River Ride participants will take home prizes, as well as the top men, women and children finishers in each race.
The following races/events may require online registration. Visit www.diamond-derby.com.:
D&Q River Ride - 2 p.m. Registration Cost: Free. Registration required.
Kids' Derby - 4:15 p.m. Registration cost: Free. Registration Required. Open to children under the age of 15. All other races are open to those 15 and older. Any participant younger than 18 will require parental or guardian permission.
River Ride Fashion Show and Awards - 4:45 p.m.
Open Course Challenge - 5:15 p.m. Registration cost: $20
Team Competition - 6:45 p.m. Ticket ensures entry for one team (up to four participants). Registration cost: $70 per team.
Vintage Cycle Fashion Show and Team Competition Awards - 7:45 p.m.
4X Comps - 8:10 p.m. Maximum participants in this event are 120 riders. Registration cost: $20.