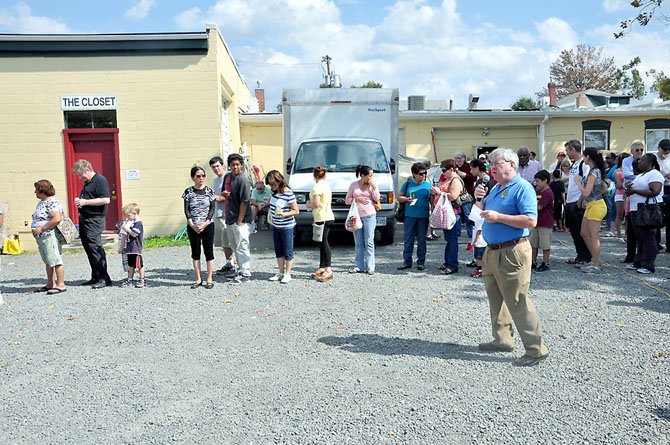 Herndon — The Closet Thrift Store in Herndon hosted a community picnic on Saturday, Sept. 22, paying thanks to their customers, donors and volunteers that have supported the shop during their almost 40-year mission. The store, which sells clothes, housewares, electronics and more is a nonprofit supporting local charities with donations of clothes and money.
"This was a way for us to show our support for the donors, the shoppers and the volunteers, who all make what we do possible," said Aaron Sawyer, manager of the store.
The Closet was founded in 1974, and since then they have donated more than $2 million to local groups such as Herndon-Reston FISH. Last year they donated more than $80,000 worth of clothing and other necessities to local resident in need.
THE STORE is staffed by a few paid staff members and volunteers from 23 different faith communities in the area. The staff spent the week of Sept. 10 to 14 restocking and cleaning the store for the fall shopping season.
"I heard about the store through my church, and I've always loved thrift stores, so I knew I had to check it out," said Joanne LeSage, who has volunteered there since 2011. "I noticed the first time I came that it was one of the best thrift stores I've ever been to. It was so well organized and everyone is so dedicated, I knew I wanted to be a part of it."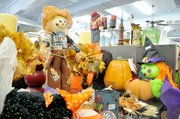 Saturday's picnic was The Closet's first in three years, and more than 100 people attended for a chance at raffle prizes, catering by Jimmy's Old Town Tavern and a chance to interact with fellow shoppers and staff.
"If the store was just a normal, antique store, I think I would still regularly shop there because of their well-sorted collection that features a lot of cool stuff," said Elena Santos of Herndon. "Knowing that it helps people, and especially because they focus on local charities, is icing on the cake."
Herndon Councilmember Dave Kirby attended the picnic, and said he has personal experience with The Closet as a one-stop shop for hard to find items.
"My hobby is photography, and I have older pictures of my family members, my grandfather, great-grandfather, on both my wife and my sides of the family. I walked by The Closet one day and saw one of those old-fashioned round frames, ideal for framing one of my grandfather's black and white photos," he said. "Since then, I've come here quite often. My son Daniel is a computer engineer, and all of a sudden he got an interest in VHS tapes. He happened to be with me one day and saw a great big cabinet full of tapes, and he went crazy. He probably bought 20-25 of them for the great price of 25 cents each."
Kirby also praised The Closet for benefiting all who are involved with it.
"This is a win-win situation, The Closet. People come here to donate things they no longer need at home. I've done that many times myself with old clothing, toys my kids have outgrown, and I drop them off at the back, and inevitably find myself going to the front door, and lo and behold, I find things that I purchase," he said. "The Closet is extremely successful, we are proud to have it in the Town of Herndon, and we're proud of what it does for everybody."
THE CLOSET is located at 845 Station Street, and is open Tuesday, Thursday and Saturday from 10 a.m. to 2 p.m. Donation hours are the same days, from 8 a.m. to 2 p.m.
More information can be found at www.theclosetofgreaterherndon.org.