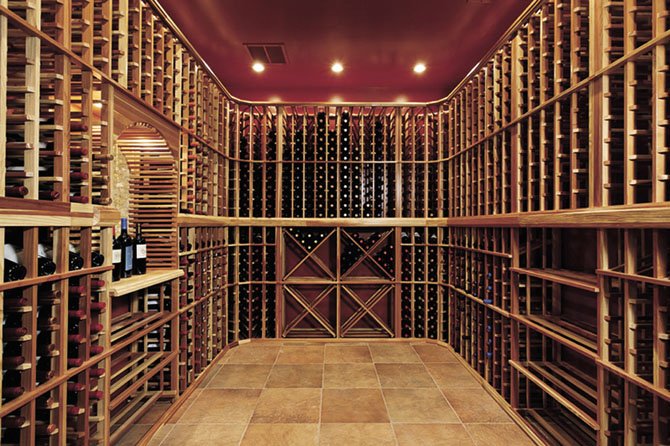 Centreville — From those who sip an occasional glass of Chianti with friends to enthusiastic oenophiles, the notion of owning a wine cellar is fascinating to many people. In fact, a recent U.S. Luxury-Home Market survey by Wine Trends, a wine-consulting firm, showed that 67 percent of respondents were interested in incorporating wine storage into their homes.
Local designers say they are now catering to a new breed of wine collector and are creating cellars equipped with perks ranging from full kitchen and dining spaces to rare art and LED lighting. Jason Kirkpatrick, of Kirkpatrick's Construction in Centreville, says creative options are virtually boundless.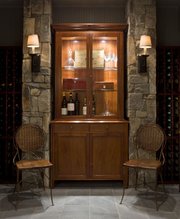 "With wine cellar design, the sky is the limit. In fact, the sky is actually the starting point," he said. "There are so many neat things that you can do with architecture, racking and lighting. You can turn a relatively small space into a gorgeous wine cellar."
DESIGNERS SAY that when planning a wine cellar, there are a few basic factors to consider.
The first item that those who want to build a wine cellar should think about is a system of organization. "You have to not only think about how many bottles you have in your collection, but also how much you think your collection will grow over the next five to 10 years," said Kirkpatrick, who lives in Clifton. "You don't want to make this kind of investment in your home and then a year or two later say, 'Gosh, we need to make an addition onto our wine cellar.'"
Local interior designer Marika Meyer of Marika Meyer Interiors says homeowners should create a style for the cellar that will be consistent with the rest of the home, something she and the design team did when creating the cellar in a McLean home.
"We … developed a sophisticated space that was reflective of the home and the collection," she said. "For example, the flooring is the same slate that is used in the exterior patio. We wanted to use the cherry cabinet that is featured in the center of the two front columns, so we designed the room around this piece. Each stone column was designed to work around the room based on the proportion established by this piece of furniture. We also wanted the space to feel open to the billiard room, which is attached. To that end, we widened the door enclosure and added side-lights to make the space open."
HOW THE SPACE WILL BE used is another important consideration. "Are you planning to use it for strictly for utilitarian storage or would you like for there to be a space for entertaining in it as well?" said Kirkpatrick, who won a Contractor of the Year Award from the National Association of the Remodeling Industry for a McLean project that included a wine cellar with a tasting area. "Which do you drink more of: White or red? Do you prefer large format bottles or standard-sized bottles?
Designers say the style and features of the rest of the home should be factored into the cellar's design: "What are the spaces that are adjacent to the wine cellar? You can incorporate them into the design for a better flow," said Kirkpatrick.
Kirkpatrick says he integrated a wine bar into the design of a south Arlington kitchen during a recent renovation. "We used interesting frosted glass cabinets and really designed the space for wine tasting, there was even a space for tasting cheese or chocolate. The plan was integrated into the design of the kitchen and the whole space flowed."
When remodeling a kitchen in Alexandria, Kirkpatrick created two spaces for wine. "We used open storage where wine can be stored for easy accessibility and built-in wine storage under the cabinets. But one of the most cost-effective things you can is to buy a glass-front refrigerator that is specifically designed for holding wine with so you can display the wine nicely," said Kirkpatrick.
"With wine cellar design, the sky is the limit. In fact, the sky is actually the starting point." — Jason Kirkpatrick
In fact, Potomac, Md.-based designer Susan Matus of Case Design/ Remodeling says that there are budget-friendly options for wine storage. "[Kitchen] cabinet-makers are now making cabinets that incorporate wine storage in base cabinets or wall cabinets. There are also wine refrigerators that have two cooling zones that are appropriate for red and white wine, but are not outrageous in terms of price."
According to National Association of the Remodeling Industry spokesperson Nikki Golden, "Wine cellars are still very popular for people to put into their home during a remodel."