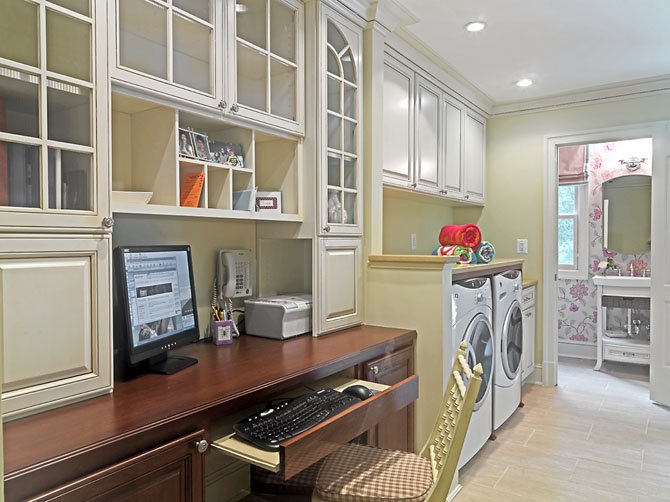 Summer will soon come to an end, and children everywhere will be heading back to school and coming home with homework. To keep students engaged and excited, some local designers offer suggestions for creating a space so fun and inviting that your children will want to hang out there — even if that means doing homework.
When embarking on the task of creating a homework space, choosing a location is one of the first considerations.
Bill Millholland, executive vice president of Case Design/Remodeling, Inc. in Bethesda, Md., said, "There are two schools of thought: One is to have the 'homework space' in a public area, … so that a parent can be involved in the activity. The other school places more emphasis on teaching personal responsibility."
According to Jean P. Freeman, associate professor of Interior Design at Marymount University in Arlington, homework space should be "away from television, but near an adult for any questions that need to be answered. It should be quiet for concentration, but having a window where the child can look up and out at the world is soothing."
Potomac, Md. resident Susan Matus, a senior project designer with Case Design/Remodeling, adds that the location of the homework area is dependent upon a child's age. "Elementary school kids seem to do quite well getting things done in a location that is close to parents," she said. "Middle schoolers are more independent and seem to prefer more private locations with less distractions and less input from parents. A family office that can be closed off or even a bedroom work-space [work well]. High schoolers just need a comfortable space to get it done."
Designers say the kitchen is one such popular public area for completing homework assignments.
"Often connected to the kitchen is a family area," said Kai Tong, AIA, director of Potomac, Md., based Hopkins & Porter Inc.'s architecture department. "Parents want to have a line of sight to their kids, especially if they are going to be on the Internet. What adds to the kids' experience is having a lot of counter space or layout space."
Evelyn Nicely, president of Nicely Done Kitchens in Springfield, said, "A design option is the designated computer or desk area, typically found on the perimeter of the kitchen, so school work is kept out of the way. But the most popular homework space we design is at the island. This casual seating appeals to children and gives them a stylish, yet functional, open space to do their work without isolating them."
Arlington resident Christie Doebel, lead designer at Sun Design Inc., which has offices in both Burke and McLean, says she gets frequent requests for a space that allows for multitasking. "Very often we are looking to create the kind of environment where a parent can make dinner while still rehearsing words for the spelling bee."
Once a space is chosen, it's time to select the fixtures that will fill the space. Good indoor lighting with a window for sunlight is essential, said designers. Freeman said the most obvious components of a homework space are electrical outlets, a Wi-Fi connection and a comfortable, adjustable chair.
Designers suggest investing in a chair that fits your child's needs. "Don't use dad's old chair … or pull a chair from the dining room table," said Deborah Wiener, owner of Designing Solutions in Silver Spring, Md. "If the back of the chair hits the back of their head, it is too tall. If their feet are dangling, the chair is too big. One of the many reasons kids tire when doing homework is that they don't get back support. … It's a mistake to skimp on a chair."
"The chair should support the student's back and posture, and adjust to the growing needs of the student," added Freeman. "There should be an adequate work surface to accommodate books, computer, writing pad and task lighting, [as well as] storage."
Lisa Magee, project designer at Case Design/Remodeling, Inc., adds, "A place with upright seating — no swivel chairs or recliners — is best for learning. Good lighting … helps children stay focused on their work and also keeps them alert."
Centreville resident Liz Lee, a senior designer at Sun Design Inc., encourages parents to ensure that the homework area has "functional types of storage, [such as] file cabinets, baskets for crayons [and] scissors, so all of the supplies they need are right there."
Bruce Wentworth, president of Wentworth, Inc. in Chevy Chase, Md., said, "A simple counter top with bookcases is very practical. A large work surface for laptops, printers and scanners is desirable, and grommets help hide the cords below the work surface." Wentworth also suggests adding custom-built drawers and filing cabinets to homework spaces.
Arlington resident Allie Mann, project manager, Case Design/Remodeling, Inc., said "A fun or personalized calendar to teach time management," she said. "Along those lines, have a clock nearby."
Marika Meyer of Marika Meyer Interiors in Bethesda, Md., said, "One thing I always love to incorporate is a custom tack board. We choose a fun fabric that the children help pick out and then have [it] sized to fit specific workspace."
When designing a space that is both functional and stylish, Moira Gannon Denson, an assistant professor of interior design at Marymount University, suggests using the elements and principles of design — color, shape, pattern and scale — to set the tone. This will allow the space to evolve as the child grows, she says: "Save the TV characters and cartoons for the stickers [for] their notebooks. … Too much 'trending' can mean replacing in a year."
When creating a space that is appealing to both children and their parents, Doebel does suggest teamwork, however. "It's fun when a kid gets involved in the design process," she said. "They are drawn to contrast and comfort [like] bold, bright colors [and] soft, warm surfaces. They are always honest about what they see and how they feel."