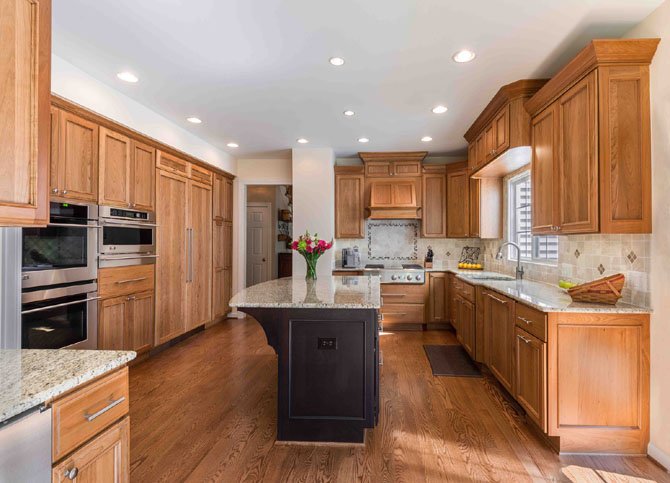 A sunny space; an uplifting view; a generous footprint that includes a sizeable breakfast zone, a food preparation island and easy access to a large back deck.
On the surface, the kitchen of David and Cindy Kunzman's colonial-style home in Springfield had everything to recommend it. On the other hand: when the kids have moved on, transforming a kitchen into your everyday gathering place can become a personal passion. It's largely a matter of thinking creatively; and finding the right resources.
"We'd been thinking about a new kitchen almost from the day we moved in," said David Kunzman who had purchased the circa-1990s four-bedroom home about 10 years ago. "We didn't move quickly, partly, because the original floor plan worked pretty well. Fundamentally, we were developing our wish-list, going to home shows and waiting for the right opportunity."
That opportunity was meeting David Foster at a home his firm, Foster Remodeling Solutions, had recently renovated. Kunzman liked what he saw and heard. Shortly afterward, Cindy Kunzman was introduced to Foster's designer, Mimi Lee.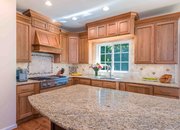 "That's when the project took off," Kunzman said. "Mimi really helped us shape our ideas."
THE FIRST STEP was a thoughtful re-examination with Foster of the existing floor plan: what worked and what could be improved upon.
The cooktop and clean-up were in the right place, the Kunzmans decided. The food prep island — while small — was a critical leg in effective work triangles. The breakfast nook was appropriately positioned, and there was lots of natural light. The main issues were in performance: more functional storage, some personal-use items begging for custom design, and, of course, ambiance.
It wasn't just that the existing interior was dated, or that it evoked qualities unquestionably associated with a suburban production house. The couple's larger goal was finding a design style that appropriately expressed their evolving tastes.
"The more we talked," Lee said, "the more we seemed to be naturally exploring ideas associated with transitional-style interior design."
Transitional style, Lee said, introduces traditional, often formal touches into an open floor plan. The style objective, thus, guided the selection process —cultivating a warmly textured feel appropriate for rooms often bathed in natural light.
THE STARTING POINT, however, was modifying the floor plan to gain useful square footage without moving walls.
Deleting a pantry tucked in an interior wall, for instance, enabled the Foster team to pick up just enough floor space to introduce a substantially larger food preparation island, and dining counter — which now accommodates seating for three. Moreover, while finding the square footage needed for a much larger refrigerator, a stacked double oven and even an Advantium range, the makeover still manages to provide more usable storage than the previous kitchen.
"This is David working some kind of magic," Kunzman said.
"We designed deeper cabinets with roll-out trays," Foster said. "The cabinets and drawers are designed for specific items, and positioned to facilitate a whole series of interlinked work triangles. It's a plan that emphasizes convenience and efficiency."
Naturally, in such a world, one expects cabinets custom-sized for large pots; roll-out spice racks; a side drawer for hand towels; and a dedicated spot for the espresso coffeemaker.
But this plan also introduces such originals as a pull-out drawer with his-and-her iPad charging stations; a slot to hold the RF Universal remote; and a TV mounted so that the screen points in any direction desired.
Carrying integrated home entertainment a step further, Foster positioned audio speakers above the cabinets and mounted the sound system in the basement.
The most personal built-in, however, is the 8-foot-by8-foot-by3.5-foot wet bar on the interior wall of the breakfast nook. With a 40-bottle wine/beer refrigerator, a clean-up sink and an ice maker, the console is convenient to the breakfast table and, more importantly, to the deck and outdoor play area just beyond the double French doors.
"The wet bar is a real step-saver that makes entertaining on the deck much easier," Kunzman said.
On the interior design front, Cindy Kunzman made full-use of Mimi Lee's talents and advice, often visiting Foster Remodeling's Lorton showroom to look at cabinets facings, marble samples or ideas for flooring.
What evolved was an interior that makes use of color-contrasted natural materials, decorative elements and finish work detailing: a cooktop hood faced in cherrywood that tapers upward to ceiling-flush crown moulding; a Giallo Oatmeal granite surface mounted on the food prep island's espresso-stained cabinetry base; and a backsplash of tumbled marble that incorporates glass tile inserts as art deco-styled accents.
"You build this kind of interior one detail at a time; that's how you achieve distinction, " Kunzman said. "But more importantly, it's satisfying to be in a space that so completely expresses who you are. It's comfortable; it feels like home."