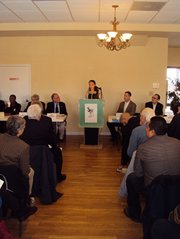 Asked how effectively the issues facing disadvantaged populations have been addressed by legislators in Richmond, Carla Peterson, director of Virginia Citizens United for Rehabilitation of Errants (CURE), said: "Not nearly enough. What has happened is that [Governor Bob] McDonnell has hired a person who is probably the most reformist person that I know of, in charge of corrections. [A person] who is making progress and not as much as we would like to see done, but it serves as a glimmer of hope. There are some [changes] taking place."
Holly Coy, director of programs, Virginia Interfaith Center for Public Policy, said: "There are a number of legislative champions for those communities who year after year put in bills to support and invest in those communities. It's always going to be a challenge for that population to be represented in the policy making process. They don't have lobbyists and they don't have wealthy funders, so we as people of faith are called to stand up for them in this process."
THEY PARTICIPATED in the annual Richmond Wrap-up meeting, co-hosted by Social Action Linking Together (SALT) on March 23 at the American Legion Post 180 in Vienna, attended by four state senators, four delegates and Supervisor Catherine Hudgins (D-Hunter Mill), among others. The event offers a yearly opportunity to hear from local politicians in a single open forum following the end of a session of the Virginia General Assembly.
John Horejsi, SALT founder and coordinator, said: "It is important to be a voice for vulnerable Virginians and we have an opportunity to do that. And the fact that we had as many legislators [here] as we did means that they are with us and that they understand the needs and are willing to work with us."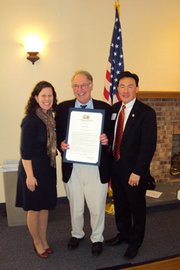 Jeff Connor-Naylor of the Commonwealth Institute spoke upon a common theme throughout the forum: lack of funding for sectors directly affecting lower-income and middle-income families. Protecting sectors of the budget related to the welfare of lower-income, middle-income and TANF families (Temporary Assistance for Needy Families) was a sentiment echoed throughout the morning. Legislators and co-sponsors engaged in an exchange of questions and answers often boiling down to the same point: lack of funding and legislation for disadvantaged populations. Rae Moar, a seventh grader at Kenmore Middle School, was recognized as the "SALT Student Advocate of the Year," and was presented with a "Commendation from the House of Delegates."
JOHN HOREJSI was presented with Virginia's Outstanding Social Justice Maker Award by Delegate Keam. The award recognized Horejsi's long-term dedication and advocacy on behalf of social justice issues.
Eric Peterson, member of Virginia CURE and SALT, commenting on importance of annual Richmond Wrap-up, said, "I find it very helpful to get an inside view [of] what actually [goes] on. My wife in particular is the director of Virginia CURE and she testifies both for and against legislative proposals. This gives us an opportunity to hear from the legislators themselves about the dynamics [affecting legislative discourse] and the role that the governor plays."