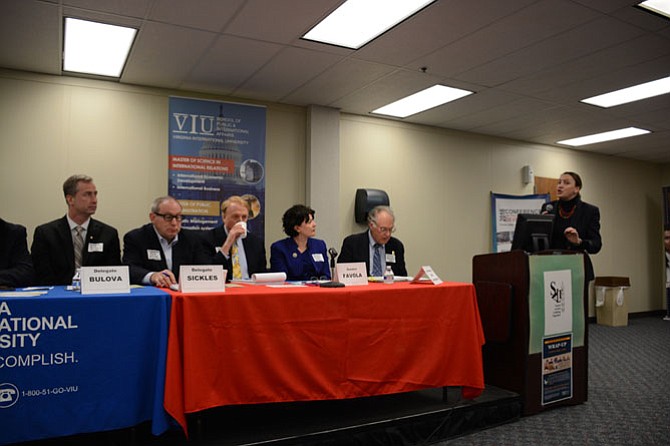 Photo Gallery
Legislative Wrap-up 2016, Part 1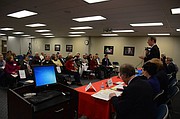 Click Photo for Flash
On average, low income families in Virginia who are eligible and sign up for funds from the Temporary Assistance to Needy Families (TANF) Block Grant receive $269 monthly and are cut off after five years. But lawmakers say there's a lot more unexpended money available in the federal grant that, if it remains unused, could one day be taken back.
Expanding funding for TANF programs including child support, workforce training, foster care and apprenticeships was among the social issues discussed at the Social Action Linking Together Richmond Legislative Wrap-up forum held April 3 at Virginia International University in Fairfax.
A mostly Democratic panel of state senators and delegates from around Fairfax County, Alexandria and Arlington also touched on immigration, raising the minimum wage, gun control, redistricting, ending homelessness and human trafficking.
Del. Paul Krizek (D-44) from Mount Vernon said the 2.5 percent increase in TANF program funding that was achieved this year in the General Assembly is "still not enough." His strategy was to "go big" and ask for a ten percent increase over the next three years. TANF, Krizek said, is a "Hand up, not a hand out."
State Sen. Barbara Favola (D-31) from Arlington said she called for a comprehensive review of TANF and put forth a bill that would study how the unspent TANF money could best be spent.
One reason lawmakers would be concerned about spending all the extra grant money at once, Del. Mark Sickles (D-43) said, is in case economic growth slows down and there's a sudden increase in families who are eligible and apply for TANF benefits.
John Horejsi of Social Action Linking Together praised Del. Alfonso Lopez (D-49) for vociferously championing the apprenticeships program as the General Assembly was considering increasing TANF-related funding.
"You hit the ball out of the park when you testified," Horejsi said.
Lopez said it is good for individuals, as well as the Virginia economy. "It's getting an education as well as a paycheck," he said. "That's the key thing."
Prisons, jails and treatment of inmates were another topic of discussion, as State Sen. Adam Ebbin (D-30) and Del. Patrick Hope (D-47) talked about reducing high rates for phone use. Family contact by phone is critical for prisoners, Ebbin said, because "family unification is the number one predictor of success on re-entry." Ebbin and Hope have also been tackling solitary confinement, they said.
Photo Gallery
Legislative Wrap-up 2016, Part 2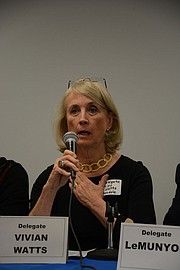 Click Photo for Flash
Del. Sickles also spoke about his parole bill that facilitates re-examining cases of inmates before 1995, when there was an understanding that an individual wouldn't spend 20 years in prison for a 20 year sentence. "It's outrageous it's not the priority of the state to look at each one of these cases," he said.
First-time delegate Jennifer Boysko (D-86) of Herndon had her bills that would've expanded who can get a driver's license in Virginia tabled, though she's hopeful to carry the same content next year.
Her bills, she said, "Would've impacted 6,000 people, with no fiscal impact, and be ready to be implemented by July this summer.
"This would help people get back and forth to work legally," Boysko continued. "It makes a good amount of sense."
Del. Mark Levine (D-45) spoke to the social need for more transparency in government and plugged the Virginia Transparency Caucus he helped form in Richmond. Members of the caucus (the current 12 are nearly bi-partisan) agree to having the committees for each one of their bills filmed and then published to YouTube.
"We're hoping to set a standard," Levine said. "You don't have to pass a bill to do this."