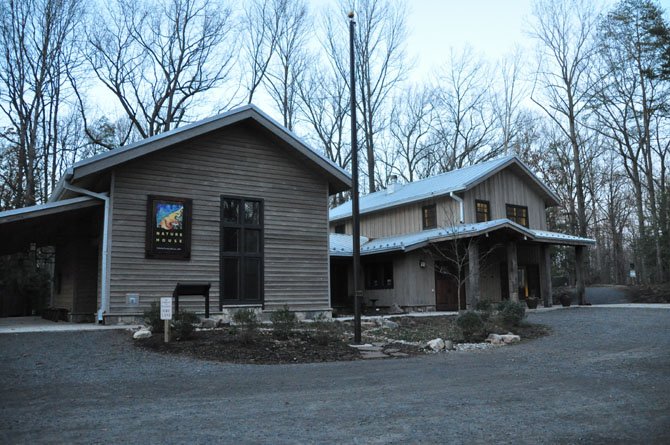 Reston — When Robert Simon first saw the land that would eventually become Reston, he was struck by its beauty. 
"What persuaded me to buy this piece of earth," he wrote in the introduction to the book "The Nature of Reston," "was the serenity of the gently undulating land, half in the woods, half in open fields, traversed by clear running streams. On it was a 30- acre lake, deer, foxes and solitude." 
The natural history of Reston was the topic of the latest presentation by the Reston Historic Trust Thursday, March 28.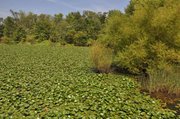 Natural space became one of the tenets of the community Simon founded, and he succeeded. Today Reston features more than 1,300 acres of open space, including 800 acres of woodlands, four lakes, four wetlands, three ponds, 50 meadows, 20 miles of stream and 55 miles of pathways.
"We have over 430 separate parcels. Some of these parcels are only 20 feet wide, which makes it difficult to have a natural area," said Claudia Thompson-Deahl, Reston Association's environmental resource manager. "We try to keep our wooded areas in as natural of a state as possible because living in Reston is like living in a park. The concept was: we want the woods to come up to the houses, rather than the lawns out into the woods. We wanted to bring nature to the people." 
Part of the plan also included a nature center in Reston, with land, interpretative buildings and educational programming. Today, that center is the Walker Nature Education Center, located on Glade Drive. 
THE CENTER is named after Vernon Walker, one of the earliest advocates for nature in Reston. He was hired in 1967 as Reston's first nature center director. Walker, who was working as a science teacher in New Jersey at the time, was heavily involved with outdoor education. 
"His experience working at camps and other nature education was the importance of the outdoors themselves," said Glenn Walker, Vernon Walker's son. "He wanted to get people outside to experience adventure and explore nature, and get them away from what they were used to in the city and classrooms." 
Walker became known as a "pied piper" of Reston, who would lead people on nature walks through the community. 
"It was under his direction that the very important education program developed, and it really turned heads," said Katie Shaw, director of the Walker Nature Education Center. "People wanted to know him, go on his walks, hear what he had to say. On a national level, he was getting written about in magazines." 
Nancy Herwig, former environmental education manager in Reston, remembered Vernon Walker as someone who shaped her views on education. 
"Vern got into my head a different kind of environmental education [than] I was taught in school. I was taught more about trees and getting people enthusiastic, but here in Reston the whole idea of stewardship was added by Vern," she said. "Instead of talking about trees, we planted them." 
WALKER passed away in 1982. The original nature center was dedicated to him in 1982, and broke ground in 1987. It was a small, seasonal building, and the property included seven parking spaces, a bus turnaround, two restrooms and a room that served as an office and was used for storage. 
In 2001 the Friends of Reston launched a capital campaign to build the center that currently bears his name. It raised more than $1.5 million dollars, and the current center was opened in 2009. Herwig said she became interested in nature after taking a field trip in the woods across from Lake Anne Elementary School. 
She said while she has always loved the natural spaces in Reston, watching the community grow over the years has been bittersweet. 
"I grew up in Reston, and it was a love-hate relationship, because the map used to be small, and a lot of trees had to come down to grow Reston," she said. "It was hard for me to see it grow. The first place I rolled over a log became Fairway Apartments." 
The Reston Historic Trust's next program will be Thursday, May 23, at 7 p.m. at the Reston Community Center Lake Anne. The topic will be the early modernist architecture of Reston, including Lake Anne, Hickory Cluster and Waterview Cluster.