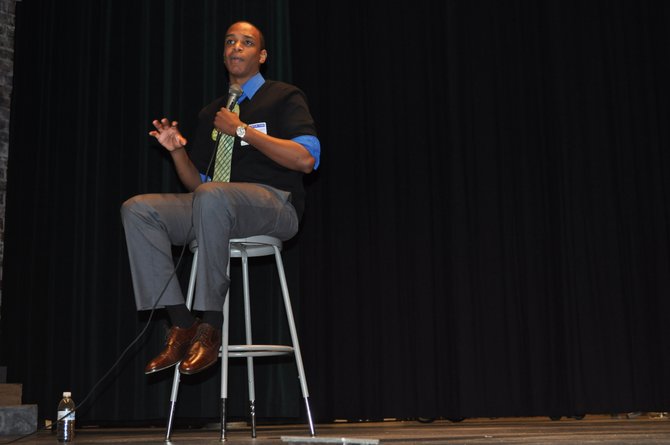 Reston — As AP and final exams loom closer than ever for area students, the administration of South Lakes High School spent last week trying to create an atmosphere that promotes mental wellness.
The school, in conjunction with Active Minds and the Josh Anderson Foundation hosted events all last week designed to raise awareness about the consequences of too much stress.
"In this day and age, information is flowing at an astronomical pace and expectations for students are very high, which comes with a burden of stress," said South Lakes Principal Bruce Butler. "The logical next step for us as educators is to bring helpful information where it needs to be, which in this case is the school."
The foundation was named after Josh Anderson, who was a junior at South Lakes when he committed suicide in March 2009 the day before a disciplinary hearing from Fairfax County Public Schools. His sister Lauren Anderson, director and founding partner of the foundation, says they are taking a localized view of the problem at hand.
"We work to provide young adults with the resources and support they might need," said Anderson, who graduated from Langley High School in 2005. "We wanted to do our work on a local level, not just collect money for a national organization, but actually address this problem in our schools."
Since the start of this year, the South Lakes community has had a sharper focus on suicide prevention. Teachers were trained in January and they hosted a workshop for parents in March.
"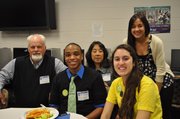 We've done individual programs before, but not a systematic approach over a week, where we took a few extra steps to further involve students," Butler said. "There are societal and cultural stigmas about receiving help for mental health issues that we can't control, but in the building we can try and get the point across.
One of the primary goals of the week's events was to make sure students know that communication is essential.
Students could get information about resources for depression and stress during each of the school's four lunches every day last week.
"Our intent was to reach every single student, which is why we were at all the lunches, all week," said Kari Olson, a counselor at South Lakes. "We thought with 20 different periods through the week, everybody would have an opportunity to get informed."
Many student groups also took roles in gathering materials and increasing the outreach during the week.
"Our leadership class helped with a lot of the technical details and really helped get the message out to their peers," said Sue Stemetzki, a social worker at the school. "We know there are situations where students experiencing depression will turn to parents, teachers or other students."
The highlight of the week was Tuesday, April 24, when speaker Jordan Burnham addressed more than 800 students. Burnham was a star athlete and a popular student in high school, but struggled with depression and the increasing pressure as he went through high school.
During his senior year, he attempted suicide by jumping out of his nine-story bedroom window. Though he survived, he broke his fibula, tibia, wrist and jaw in four places. Since then, he travels around the country telling the story of his suicide attempt and recovery with the help of a strong counseling network.
"We appreciate what Jordan did for the students, and he really had a way of connecting with students," Butler said. "You know it's a good assembly when a large number of students don't leave right away, but stick around to talk to him."
Active Minds' "Stress Less, Laugh More" campaign is going on at Langley, McLean and Thomas Jefferson High Schools this week. More information is available at www.activeminds.org and at www.joshafoundation.org.