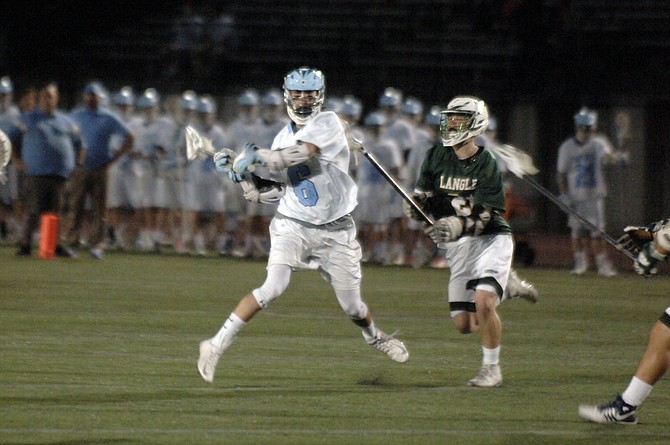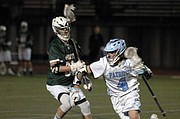 Two games into the 2016 season and the Yorktown boys' lacrosse team's desire to be a contender for the 6A North region title appears to be a reality.
Two days after beating Chantilly for the first time since 2006, Yorktown earned its first-ever win over Langley, beating the Saxons 9-8 in double overtime on Thursday night in Arlington.
Senior attackman C.J. Stowell (St. Joseph's) scored the game-winner with 3:06 remaining in the second overtime period.
Yorktown led 8-6 in the fourth quarter, but Langley senior midfielder Jon-Michael Duley's third and fourth goals of the second half tied the score at 8. Neither team scored for the final 6 minutes, 42 seconds of regulation or during the first 4-minute overtime period. Yorktown improved to 2-0 when Stowell scored in the second OT.
"We just have a really good, really mature group of kids this year," Yorktown head coach Greg Beer said. "Nothing has fazed them so far and that's probably the most pleasing thing."
Yorktown opened the season with a 10-9 come-from-behind win at Chantilly on Tuesday. The Chargers finished state runner-up last season and have played in six of the last eight "big school" state championship games, winning in 2013 and 2008.
On Thursday, Yorktown defeated a Langley program that won four consecutive state championships from 2009 to 2012 and finished runner-up in 2014.
What do a pair of March victories over perennial powers mean for Yorktown?
"I think it means we're a contender," Beer said. "Something we've tried to build on is we want to be in the race for the region title and I think we're one of six, seven teams that have a pretty good shot at hopefully playing for the regional title."
Senior midfielder Pearson Savarino led Yorktown with three goals during Thursday's win over Langley. Beer said the Patriots moved Savarino from attack to midfield to utilize his speed.
"I thought he played fantastic," Beer said.
Stowell scored two goals for Yorktown, and senior midfielder Matteus Jaramillo, senior midfielder Gordon Coates and senior defenseman Conor Shears each had one.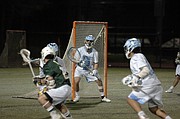 Yorktown returns a pair of first-team all-state performers on defense in Shears (Bucknell) and senior goalkeeper Mason Pollack (Tufts).
"Having arguably the best goalie [and] the best defenseman in the state," Beer said, "that's certainly a good way to start building for this year."
Pollack finished with 17 saves against the Saxons.
"I think he's the best goalie in the state --- public or private," Beer said. "He's a four-year starter --- basically since he stepped in at Yorktown he's been in the crease there. He's got more experience than anybody we've ever had. He's unflappable, nothing bothers him. He's just a great, great goalie."
Pollack said the Patriots have room to improve.
"[The wins over Chantilly and Langley are] a morale boost, but we still think we can play better," Pollack said. "We have high exceptions for the season. First two wins are good, but we think that we should be playing better."
Yorktown won't need to wait long before facing its next challenge. The Patriots will take on two-time defending state champion Robinson at 4 p.m. on Saturday at Robinson Secondary School.
"We're not really settling for anything," Savarino said. "We're happy, but in practice the next day after Chantilly, we're out there working hard. We have a big game ahead of us with Robinson. We're still hungry."
Robinson finished 19-4 last year, including a 7-5 loss to Yorktown. The Rams also lost to Chantilly in the Conference 5 and 6A North region championship games, and to private school power Landon.
Beer said he doesn't have to worry about the Patriots being overconfident heading into Saturday.
"I'm pretty sure Robinson has us circled," Beer said, "considering we beat them last year."