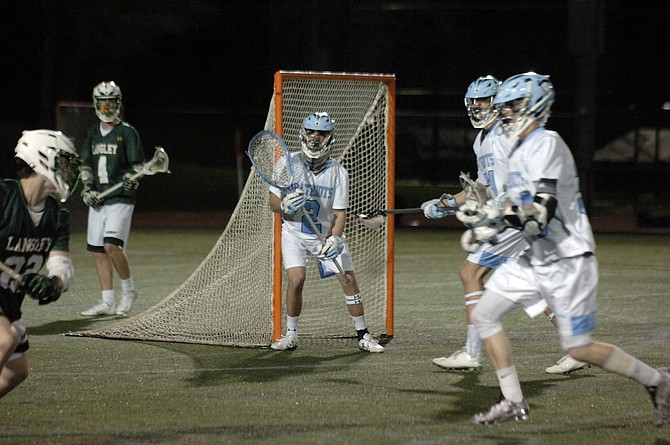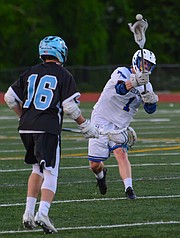 If a potential third consecutive trip to the state tournament isn't enough to motivate the Robinson boys' lacrosse team for its 6A North region quarterfinal matchup against Yorktown, a loss from early in the 2015 season might do the trick.
The Rams (15-2), winners of the last two state championships, will host the Patriots (12-6) at 7:30 p.m. tonight in the second round of the region tournament. The winner secures a state berth and advances to the region semifinals. The loser goes home.
Tonight's meeting will be the fifth in the last three seasons for the non-conference foes, each held at Robinson's Coffey Stadium. In 2014, Robinson defeated Yorktown early in the campaign, 9-3, and ended the Patriots' season with a 10-8 victory in the region semifinals, back when only two teams from the region went to states.
In 2015, Robinson won its first five games before hosting Yorktown during spring break. The Patriots won, 7-5, and to date are the only Virginia public school program to beat the Rams at Coffey Stadium since the start of the 2014 campaign.
Robinson defeated Yorktown earlier this season, 7-3 on March 19, but senior attackman Johnny Daniel said last year's home loss to the Patriots is still "personal" to the Rams.
"I think it will be a good matchup," Daniel, the Co-Conference 5 Offensive Player of the Year, said about tonight's meeting with the Patriots. "We all of the sudden have this history with Yorktown ever since my [junior] year, where they upset us in the spring break tournament. … They always want to beat us --- and who doesn't? --- but it's something personal to us because you can never forgive somebody who beat you on your own turf."
Will the 2015 victory give Yorktown confidence heading into tonight's game?
"I hope it does," head coach Greg Beer wrote in an email. "… We just need to play our game, limit mistakes, and go right at them."
Both teams have talented players at multiple positions. For Robinson, fellow VMI signees Daniel and midfielder Austin Henry are offensive threats, along with freshman attackman Declan Connolly. Each was a first-team all-conference selection.
Connolly scored five goals during Tuesday's 14-3 win over T.C. Williams in the opening round of the region tournament. He said being a freshman with a starting role in the playoffs has led to nerves.
"Coming into the playoffs, I kind of felt a little bit more nervous and kind of feeling like I need to take up my role as a freshman starting and I don't want to let down my team and make bad decisions," he said. "… It's tough living up to their expectations because we have Johnny --- he's great --- and Austin and I have to fit in as a finisher right now."
Robinson senior midfielder Danny Krug was the Co-Conference 5 Defensive Player of the Year. Junior defenseman Joe Otero and sophomore midfielder Nick Rowlett were first-team selections.
For Yorktown, senior attackman C.J. Stowell (St. Joseph's) and senior midfielder Gordon Coates were first-team all-conference performers. Senior defenseman Conor Shears (Bucknell) and senior goalkeeper Mason Pollack (Tufts) were each first-team all-state selections last season, and were chosen first-team all-conference so far in 2016.
"I think [Robinson/Yorktown] is an excellent matchup," Beer wrote. "Pollack and [Robinson junior Matt] Bethard in the cages, Daniels vs. Shears, Stowell vs. Otero, both midfields have great athletes. We've had some good ones that last couple years. The regional semi in 2014 must have been awesome to watch as a fan."
While the two teams have played some close games, Beer isn't ready to call it a "true rivalry."
"I think we have to have a little more success against them for it to be a true rivalry," Beer wrote. "Not sure they see us like Chantilly or any of the other Concorde teams. But I have a tremendous respect for Coach [Matt] Curran and his staff and everything that they have done there. We seem to play them well even in defeat, so I hope that it is another good one come Thursday."
Curran praised Yorktown and said he expects the Patriots to be motivated after Robinson beat them earlier in the season.
"We've got to be ready for them," Curran said. "They're good. They have arguably the best goalie in the region. They have one of the best long poles (Shears) in the region. They're well-coached. … They're a veteran team, they have a lot of older guys and they've been there before. They beat us last year in that spring break tournament. The fact we beat them earlier in the season, that's only going to motivate them even more."