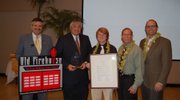 The McLean Community Center's (MCC) ninth annual Volunteer Appreciation Reception was held on Sunday, March 24, in the Community Hall. The theme was "Aloha" and center volunteers were treated to a catered lunch by Makakoa Catering and live music by The Aloha Boys. The center is located at 1234 Ingleside Ave.
The 2012 H. Gordon Randall Outstanding Volunteer award was presented to David Sanders for his volunteer contributions to the center. MCC Special Events Director Sam Roberts and MCC Governing Board Chair Kevin Dent presented the award.
More than 30 years ago, David Sanders began to work as a volunteer for the center. In 1976, Sanders first ran for and won a seat on the MCC Governing Board, while he was a student at McLean High School and only one year after the center was opened. Sanders was active in making the Old Firehouse Teen Center a reality, taking it from a meeting room at the center to Redeemer Lutheran Church, and finally in the 1990s, to the Old Firehouse on Chain Bridge Road. In total, Sanders has served seven terms on the MCC Governing Board, for a total of 19 years of service. In 2010, in conjunction with the center's 35th anniversary, he crafted a proclamation on McLean's Centennial, which was adopted by the board. A plaque with the proclamation is mounted at the entrance to the center.
In his acceptance speech, Sanders thanked his wife Kathie and son Donny for "sharing" him with the community by allowing him the time needed to work on the board.
In addition, the staff of the Old Firehouse Teen Center (OFTC) made a special presentation during the reception. Youth/Family Programs Director Ryan Brookes and Camp and Youth Programs Specialist Michael Fisher announced the establishment of the Craig McKenzie Legacy Award. Named in honor of long-time center volunteer Craig McKenzie, the award will recognize teens that make outstanding contributions to OFTC and the community. Brookes and Fisher presented McKenzie with a framed copy of a proclamation on the establishment of the award.
For more information, call the center at 703-790-0123, TTY: 711, or visit http://bit.ly/14KOjRW.