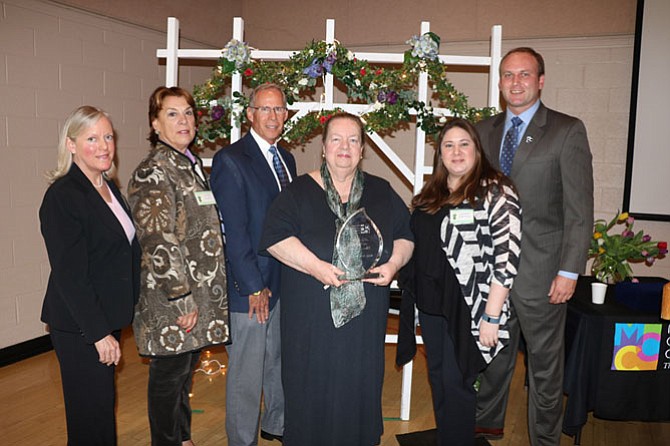 Mary Anne Hampton was recognized for her volunteer service to the McLean Community Center on Sunday, April 3, when she received the 2015 H. Gordon Randall Outstanding Volunteer Service Award. The award was presented at the Center's annual Volunteer Appreciation Luncheon where Center volunteers were treated to a catered luncheon by Splendid Fare and live music by a classical music ensemble. The center is located at 1234 Ingleside Avenue.
MCC Executive Director George Sachs presented the award to Hampton, who retired from the Center in 2008 after 33 years of service. She began to volunteer almost immediately. Each year, she assists the Special Events Division with both the annual jewelry and holiday crafts shows. She has worked to preserve the history of the Center and the McLean community by assisting the Public Information Office with the archiving of early Center documents, photographs and press clippings. In addition, she assisted Governing Board Chair Paul Kohlenberger with the scanning of thousands of pages of Center documents dating from the mid-'60s to the present. Not only has this effort preserved the Center's history, the result has provided an invaluable tool to staff and Governing Board members in the development of programs and policies.
She has worked with the Director of Instructional Programs to co-sponsor special events, classes and lectures with local heritage groups such as McLean and Great Falls Celebrate Virginia and the McLean Historical Society. As a member of the Friends of the McLean Community Center Board, the Center's support arm, Hampton has helped with the development of the group's website, co-chaired the Friends 50th Anniversary Reception and chairs the Friends "Meet the Candidates" Reception committee. In 2015, she received the Friend in Deed Award from the organization. Currently, along with other Friends members, she is preparing a fundraising campaign to assist with the Center's renovation and expansion project, scheduled to begin in 2017.
For more information on volunteer opportunities at the Center, call 703-790-0123, TTY: 711, or visit, www.mcleancenter.org.