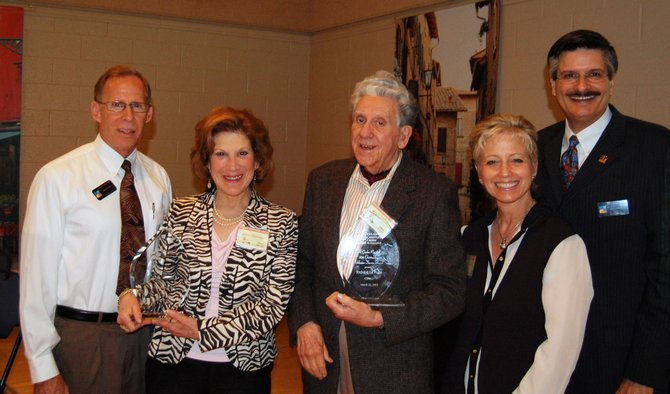 The McLean Community Center's (MCC) 8th Annual Volunteer Appreciation Reception was held on Sunday, March 25, in the Community Hall. The theme was "Italy" and Center volunteers were treated to a catered lunch by Maggiano's Little Italy Restaurant and live music by The Wayne Tympanick Trio. The Center is located at 1234 Ingleside Avenue.
The 2011 H. Gordon Randall Outstanding Volunteer awards were presented to Joann Berkson and Dick La Porte for their volunteer contributions to MCC programs. MCC Special Events Director Sam Roberts and MCC Governing Board Vice-Chair Risa Sanders presented the recipients with the awards.
Joann Berkson has contributed her talent and enthusiasm to the McLean Community Center for many years, most recently serving four years as the president of the Friends of the McLean Community Center. Under her leadership, the group has become increasingly involved in Center initiatives. The Friends organization has cosponsored the Center's McLean Uncorked Food & Wine Festival, Oktoberfest dinners and the Dancing under the Stars and Rockin' into Spring community dances. The group also participated in the fall cultural festivals and held receptions for Alden Theatre audiences. A 24-year resident of McLean, Joann and her husband, Jon, reared their three children in the community. She is the 2011 recipient of the Friends of the McLean Community Center's Friend in Deed award for outstanding service and was recently elected to the board of the McLean Community Foundation.
Richard La Porte has been a loyal usher for the Alden Theatre for many years. Not only does he do an excellent job welcoming guests and making them feel comfortable, but he also knows all of the policies and is a model at enforcing them. So great is La Porte's commitment to his job that he actually purchased his own flashlight, which he uses to guide patrons to their seats. He has even purchased flashlights for the Alden. La Porte regularly ushers for the Concerts at the Alden series, a free series of music concerts.
The Center is always looking for volunteers to fete. For more information on volunteer opportunities at the Center or the volunteer awards, contact the Center at 703-790-0123, TTY: 711, or visit: http://www.mcleancenter.org/contact/involved.asp.