It is unbelievable to me that you aren't next door any more. I've tried to remember when we first met, but it's almost as if you were always there, part of the background of life at Lake Anne. For years, we were not exactly "ships passing in the night" but "cars passing in the lot J." A friendly "hi" and "bye" over our adjoining fence led to longer conversations about our gardens and neighborhood, as we slowly cultivated the seeds of a friendship that "grew roots."
You and Malcolm were original owners of your Lake Anne property, buying one of the first Reston properties on Dec. 31, 1966, with vision, foresight, business acume, and belief in Reston's founding principles. Your death on March 28, 2013, marks 47 years that you were part of our community. You were also a part of the communities of Tomales, Calif., and Middleton, Mass., where you owned historic properties.
The love of your life, C. Malcolm Watkins, brought you to this area when he accepted a position at the Smithsonian's National Museum of American History as the curator of Everyday Life in Early America. You worked alongside him as a museum consultant focused on exhibition of early American life, such as North Carolina pottery, handmade cornhusk dolls, Asian immigrant items, a Gold Rush era kitchen. You cherished the ideals of freedom, democracy and a government "of the people, by the people, for the people." I'll always remember your description of the 4th of July as a "religious experience." Remember how we channel-surfed on the 4th to see the fireworks from Boston, New York, and Washington, D.C.? I remember one 4th of July in which you brought over an early copy of the Declaration of Independence and insisted on reading the whole thing aloud, as Rick (my husband) and I marched around our dining room, with our chocolate Labrador, Godiva, staring at us quizzically.
I think you would smile if you heard me describe you now as "zippy." You used that term frequently to describe others you admired who retained a spirit of adventure and energy. The other term you liked to use was a New England expression, "takes the starch out of me," e.g. "These long New England winters really take the starch out of a person!"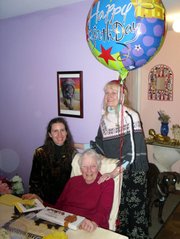 You were amazing, Joan! After a musical education as a cellist, you entered the College of Fine Arts and Education at Syracuse University and taught art in Southern California before becoming intrigued with the world of clay and ceramics. After receiving your master's degree from the New York State College of Ceramics, you operated your own studio and accepted the head position at the Ceramic Department at the California School of Fine Arts in San Francisco. You received the first grant in 1954 to be awarded in ceramics by the Louis Comfort Tiffany Foundation, and were one of six Americans to be awarded an Italian Government Fellowship for advanced independent research in Italy. You received frequent prizes for your ceramic work. Your pieces were exhibited in France and toured European museums and galleries under the auspices of USIA. You were a pioneer in early American television with your own weekly half-hour television program on KQED Channel 9 (San Francisco), "Design Workshop."
You were a patron of the arts, donating to the Essex Museum, the Boston Museum of Fine Arts, Old Sturbridge Village, and the Smithsonian. I've read notes from your friends, and most comment on your generosity to them, never forgetting birthdays, holidays or anniversaries. Your interesting, quirky little gifts can be found in every room of my house.
I sometimes wonder, Joan, how such unlikely people as us became good friends. You were an intellectual, interested in art, music and history—sophisticated and comfortable with people in high positions in art and business circles. I'm into nature, the environment, my doggy, and New-Age spirituality—kind of an aging hippy type. Maybe we had more in common than I recognize or maybe it's true that "opposites attract." Maybe it was something from a past life, or maybe we just needed each other. Bye for now, Joannie.
Love,
Beverly