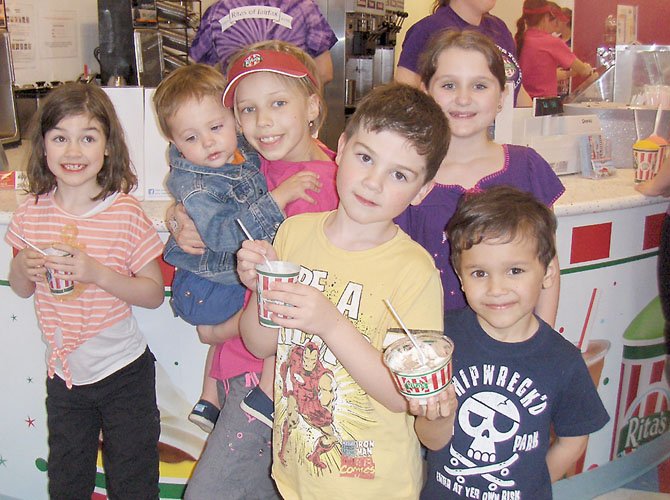 Standing on a crate behind the counter of Rita's Italian Ice, 8-year-old Tara Sankner of Fairfax scooped the cool, frosty treat into cups for customers.
Some came there Monday evening because the weather was warm and they enjoy Rita's offerings. Many others came because the Fairfax location was holding a fundraiser for Tara, who was recently diagnosed with brain cancer.
"We just opened last summer and our philanthropy is kids with cancer," explained the store's co-owner, Rico Vicencio. "On opening day, we gave a check to the National Brain Tumor Society and collected hats for children being treated for cancer at Children's National Medical Center."
The other co-owners are his wife Kristen and their friends, Ed and Jacque Whang. The Vicencios have three young sons and the Whangs have three young daughters, so it's not surprising that Tara's plight touched them.
THE EVENT came about via Fair Lakes resident BethAnn Telford, who's battling brain cancer, herself. She and Rico used to work together and have known each other 10 years; after Telford's recent surgery, he paid her a visit.
"About three weeks ago, he came to see how I was doing and delivered Rita's Ice to make me feel better," said Telford. "That's when we discussed doing this for Tara." The other owners quickly agreed.
"This is close to our hearts because we all have kids," said Jacque, who works out with Telford at Life Time Fitness in Centreville. "BethAnn is such an inspiration to us and we want to give back however we can. And being able to do this for Tara, in conjunction with BethAnn, makes this all the more special."
So on Monday, April 8, from 6-8 p.m., Rita's donated 20 percent off all sales to Tara and her family, towards their medical bills. Contributions were also collected during the day, after a woman called to say she couldn't come to Rita's during the fundraiser, but wanted to donate.
"She said, 'We need to put an end to [childhood cancer],'" said Jacque. "So we put together a donation bin." And, added Rico Vicencio, "People have been donating since 2 p.m."
Rita's has 60 different flavors of ices rotating and changing daily, with 12 flavors always available. Vicencio said mango and wild black cherry are the most popular flavors. The store also offers old-fashioned frozen custard in various flavors, including a lower-fat vanilla, plus custard cakes and custard cookie sandwiches. There are cones and sundaes with unlimited toppings; but, said Vicencio, "We're most known for our gelati—layers of custard, Italian ice and more custard."
Across Route 29 from Paul VI High, the store's open daily from noon-9 p.m.; but starting May 31, it'll stay open weekends until 10 p.m. and, come summer, it'll be open daily until 10 p.m.
Monday evening, people of all ages flocked to Rita's, and both Tara and Telford were "celebrity scoopers." Meryl Bisaga and Sigrid Rodgers came from Centreville just for the fundraiser.
"I'm on the Board of Directors of Bite Me Cancer [started by Chantilly thyroid cancer survivor Nikki Ferraro], so I've met all these wonderful people through it," said Bisaga. "I'm also a thyroid cancer survivor and I want to do whatever I can to help—especially little children."
"I lost family members to cancer, so anything I can do to help, I will," added Rodgers. "We're so advanced in so many other things, but not in curing cancer."
"There needs to be more money for research," said Bisaga. "And events like this bring more public awareness."
Tara's had three weeks of chemo so far and it's taken a toll on her slender body. She's been tired, has had headaches and back pain and had to have her hair cut short after it began falling out. But that didn't stop her from pitching an inning Saturday with her youth sports team, the Vienna Galaxy, or attending a Girl Scout father-daughter dance that evening with her dad.
Still, Telford understands firsthand what Tara's enduring, so she was particularly pleased to see such a good turnout at Rita's. "I think it's wonderful that the community reaches out to help children in need—especially right now when this child is going through the worst part of her chemo," she said.
TARA SAID SHE HAD FUN "playing with the other children, making ices, helping and eating. I liked the lemon flavor the best."
Also there Monday evening was Springfield's "Tattoo Tom" Mitchell, who's become one of Tara's champions. On Sunday, April 7, he ran the Cherry Blossom 10-Miler in Washington, D.C., in her honor and then came to Rita's for the fundraiser and to give her his race medal.
He, too, was touched by cancer when his daughter Shayla, 16, died of the disease in 2009. He then started the Stillbrave Childhood Cancer Foundation, providing non-medical support for families going through cancer.
"I also do volunteer work for Children's National Medical Center, and they referred me to Tara's mom Tammy to fix some leaky faucets for her," said Mitchell. "That's how I met Tara. She gave me one of her pink, 'Pray for Tara' bracelets, and I wore it Sunday and ran that race faster than I'd ever done it before."