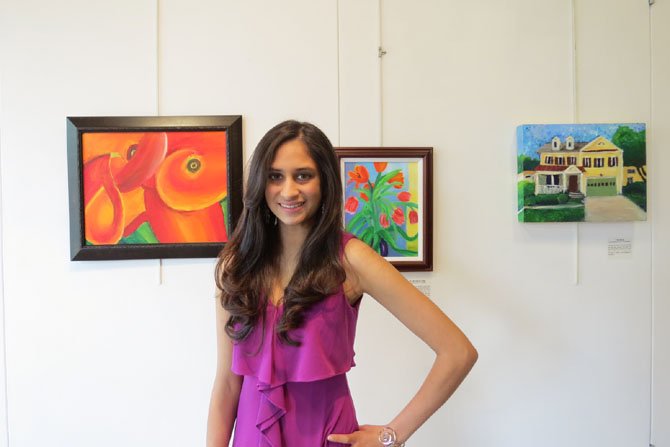 When Neelam Shaikh was in nursery school, she had an extraordinary fascination with her ability to create.
"I have always loved art and would love to do various arts and crafts-related activities when I was young," said the 14-year-old Bethesda resident and eighth grade student at Bethesda's Norwood School.
"I especially love that there are no mistakes in art and I can be free to take risks when creating art."
— Neelam Shaikh
"From the time she was in preschool … Neelam has never missed an opportunity to create a special card [or] painting to commemorate a birthday or … special occasion," her mother, Sunita Iyer, said. "We always organized fun art projects for her at home and then found opportunities for [her] to be involved in various art classes starting from age 5."
Her artistic predilection expressed itself earlier this month when she presented her first collection of artwork at the Yellow Barn Gallery in Glen Echo. The exhibit, which was hosted by the National Park Service, featured 40 pieces of Shaikh's art. This body of work, which was completed over the past three years, reflects the development of her artistic style.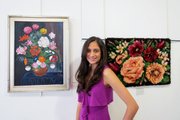 "[She is] the youngest artist to exhibit work at the gallery," said her mother. "She works with various techniques and media: oil and acrylic paint, watercolor, charcoal, printmaking and mixed media. The strong arts program at Norwood School propelled her interest in painting, drawing and printmaking."
"It has been a great pleasure to observe Neelam's personal growth and transformation into a prolific artist over the last few years," said Eneida Somarriba, Norwood School's art teacher and Neelam's mentor. "She consistently displays an amazing internal motivation that exceeds what you would expect from a student of this young age. Neelam's ability to approach each piece of work with extreme joy has contributed greatly to her success."
Shaikh said her work integrates elements of South Asian culture and iconography. "My very first Indian painting is of an Indian Rajput woman in a palace. My family is originally from India, so I especially loved learning about Indian art in this process," she said.
For Neelam, creating art is a form of relaxation. "Performing well at school is very important to me so I work very hard at my academics," she said. "The time I spend on my art is an escape from all the stresses of being a student. I love this special, peaceful time when I can shut out everything else and focus on creating something. I am a perfectionist, so I especially love that there are no mistakes in art and I can be free to take risks when creating art. Art also requires focus and self-motivation, which I try to apply to all parts of my life."
She feels fortunate to have been included in the show at Glen Echo. "I was so surprised when I heard that I was the youngest artist to exhibit at the Yellow Barn Gallery, but I feel very honored. I am very lucky to get the opportunity to present my artwork in the same gallery as so many talented artists who have so many years of experience. It's been an incredible experience learning how to put together an art show. I could never have imagined how much is involved, even beyond creating the artwork."
Shaikh will begin high school at Sidwell Friends School in September. "I am really looking forward to getting involved with their art department," she said. "Art is very important to me and is something I plan to continue with all my life. I hope to always paint for pleasure."