Remember this name: Sammy Hakim. The George C. Marshall High School junior is a finalist in the International Songwriting Competition, and holds the record for most weeks at number one on independent charts as ranked by New Music Weekly. She's a YouTube hit and her songs—which she writes and performs—play on airwaves from the United Kingdom to the United Arab Emirates and points in between, as well as in her native Virginia.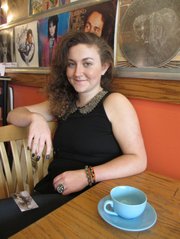 Although she admits to being overwhelmed occasionally, the 17-year-old believes she has the self-confidence to achieve her hopes and dreams.
"You have to work hard, but remember that every time you hear a rejection, every time someone tells you no, it's only one person's opinion," said Sammy. "If you don't believe in yourself, no one else is going to believe in you.
"Confidence is probably the most necessary thing everyone needs, no matter what it is you want to do."
SAMMY HAKIM received a drum set when she was just a little girl, but she said she never got the hang of it. Her dad used to sing to her, lots of Bruce Springsteen, and among her possessions is a guitar pick that Springsteen himself handed to her onstage while she was still in elementary school. Her love for music—and her self-confidence—grew as she did. She wrote her first song in seventh grade when her friend announced she would be an actress. "I said, 'okay, I'll write songs,'" said Hakim. And she did.
Sammy released her first EP CD when she was 15 years old and, since then, has released four CDs that get playtime internationally and on the Internet. Her singles can be downloaded at iTunes for $.99 each.
"I'm unique about all of this," said Sammy. "When I write a song, I think about who's going to listen to it, what I want to share with them, and how they're going to connect with it."
Sammy's mother Pam says her daughter is "very big" in the UK and that her music plays on-air in the Netherlands, Germany, Philippines, Dubai and India. Because Sammy is not yet 18 years old and is currently an independent artist, stations need parental permission.
Her career, while just over 2 years old, has taken off and has taken Sammy and her family all over the U.S. She recorded a video in Los Angeles—scoring points with her brothers—and has hosted a live radio program. Hakim's single, "Mark Me," got her nominated for Breakthrough Artist for New Music Awards. Sammy said she has been identified as a cross between country pop artists Taylor Swift and Kelly Clarkson.
Sammy Hakim's single, "Fearless," is a finalist in the International Songwriting Competition. The winner will be announced in June.
Disney's touring production of "Shake It Up" invited her to tour with the group, and she's taken under consideration a possibility of joining another "big name" tour.
"Confidence is the stepping stone to success," said Pam Hakim. "Sammy's shy naturally, but onstage she's an entirely different person."
Sammy is currently in negotiation with a music group; that partnership would provide financial backing and promotion.
"Some of this is very overwhelming because you have to think realistically," said Sammy. "It could be stressful, it could be exciting, it could be fun."
Sammy Hakim lives in Vienna with her parents and two younger brothers. Born and raised in Vienna, she went through Stenwood Elementary School and Kilmer Middle School. She plans on graduating early from Marshall at the end of summer 2014 and taking a year off to study her options. Songwriting is her "backup" plan.
SAMMY PLAYS guitar, piano, violin, drums, and ukelele. She's learning mandolin now. Music consumes so much of her life, it leaves little time for the typical teen things, such as dating and hanging out with friends.
"I just fell in love with music when I was younger," said Sammy. "And people liked listening to my music. If you can make people happy doing what you love, then do it."
To learn more about Sammy Hakim's music and discography, go to www.sammyhakim.com.