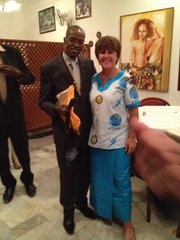 Jill Lehman of the Rotary Club of Fairfax recently spent six weeks in Saint-Louis, Senegal, helping mentally disabled children and visiting the Rotary Club of Senegal, a small club of 20 members who are very active in their community. 
The city of Saint-Louis is located north of Dakar, the capital of Senegal and the westernmost city on the African mainland.
During her stay, Lehman helped mentally disabled children at the Aminata Mbaye Centre School. "It was great to be able to help the children while I was there," said Lehman.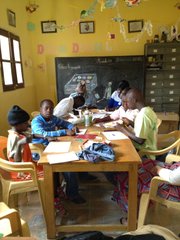 In addition, the Rotary Club of Senegal had a formal induction dinner for a new member, but since she did not pack a dress for her trip, Lehman bought "Rotary International District 9100 material" and had a blouse and wrap skirt made by a local tailor for the event.
Each year the Rotary district sells material with proceeds going to charitable causes. This year, the material had the "Peace Through Service" theme, Rotary International's theme for 2011-2012. Because the Senegal Rotary District includes both Anglophone and Francophone countries, the material is written in both languages.
The Rotary Club of Fairfax is nonreligious and nonpolitical, and is open to every race, culture and creed. The club meets on Mondays at 12:15 p.m. at the American Legion Hall on Oak Street in Fairfax City. For more information, visit the club's website at HYPERLINK "http://www.fairfaxrotary.org/"www.fairfaxrotary.org or email Rotary Club of Fairfax's Executive Director Irby N. Hollans, Jr., at HYPERLINK "mailto:ihollans@earthlink.net"ihollans@earthlink.net.