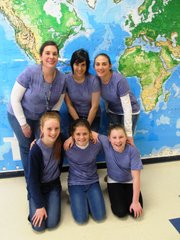 Did you know…
Autism
is a developmental disability that can significantly impact communication, social skills and behavior;
is four times more likely to occur in boys than in girls;
affects 1 in 50, children in the United States, according to the Centers for Disease Control;
is considered an urgent public health concern by the Center for Disease Control (CDC).
What works:
Early identification and treatment can significantly improve long term outlook;
Intensive intervention using the scientific principles of applied behavior analysis (ABA) is effective in teaching adaptive and academic skills;
FCPS serves students with autism using ABA at the preschool, elementary and secondary levels.
Information provided by Fairfax County Public Schools
The FY 2013 budget for the ABA program is $3,246,836, which includes funding school-based positions, professional development, support positions and allocation of instructional resources. A detailed description of budget allocations for this program can be found at http://www.fcps.e....
For more information about Fairfax County Public School's autism services, go to the following sites:
In many ways, the three best friends—Anna Kate Martin, Devin Martin and Sarah Carmen—are typical sixth-grade girls.
They listen to Taylor Swift, play soccer, and enjoy sleepovers and shopping.
They can tell you what's cool (Dance Moms) and what's so over (Gangnam Style).
But when most of their classmates at Oakton Elementary School are outside during recess, the girls are inside doing something not so typical: volunteering with the school's 20-plus autistic students.
"I love the kids. I love interacting with them and all the special bonds that we've formed," said Anna Kate Martin, who began working with autistic students when she was in the fourth grade. Devin Martin (no relation to Anna Kate) began working with autism students this year, and they recruited Carmen, a new OES student who previously attended Louise Archer Elementary School in Vienna.
"When I first started volunteering, I was worried they wouldn't like me. But I'm happy they gave me a chance," Anna Kate said. "Now, when they see us, they smile and get excited, and it makes your day."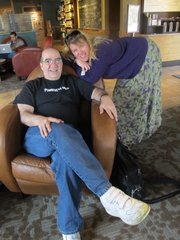 On April 2, OES participated in "Light It Up Blue Day," a national day of awareness and acceptance of people who are affected by "Autism Spectrum Disorder" (ASD). According to Autism Speaks, one of the leading autism advocacy, awareness and research organizations, ASD is characterized by difficulties in social interaction, verbal and nonverbal communication and repetitive behaviors.
Children on the autism spectrum are making the kind of progress previously thought impossible. "I think when people hear the word autism, they automatically think of the character from 'Rain Man,'" said Jonelle Shipley, the school's speech-language pathologist, who works closely with the school's autism teachers. "What's important to know is not all autistic children are the same. They have various strengths and weaknesses and sometimes they just need a chance to be good at something."
THE YOUNG VOLUNTEERS do a number of activities with the autistic students, who are in the school's enhanced autism classes with special education teachers Anna Siller and Mary Lou Marcantuono. Some days the girls help them read; other days they blow bubbles or play Bingo. The goal is to give the students a chance to engage with their peers, and make them feel comfortable in the social, school setting.
"The students really teach you not to judge a book by its cover," said Devin Martin. "I've learned you have to be a little more patient, and maybe go over things a few extra times, but it helps them stay focused."
"I think they show you that they may do things in a different way, but that's okay," said Sarah Carmen. "It's really cool to see the students do things people thought they couldn't do."
The girls agreed that interacting with someone with special needs has taught them to have more patience and respect for anyone who is "different."
"What's great about Oakton is that the kids here are very accepting," Anna Kate Martin said. "They will go up to kids with autism and say hi. It makes them feel welcome."
"Our students gain so much from being around these girls. They have more self-assurance, and they learn different ways of communicating," said Marcantuono.
Although the three girls volunteer every school day, a number of OES students participate in other related activities, such as P.E. buddies, where a student volunteers to pair up with an autistic student during gym class.
"We teach the children we receive, whether it's autism, shyness or whatever," said kindergarten teacher Julia Rastelli, who produces a popular annual kindergarten musical that includes autistic students.
"Our school has a culture of compassion and acceptance, and these girls really take that to heart," Shipley said. "We're lucky to be in Fairfax County, where we have programs that students can benefit from at a very early age. No child is hopeless, and that's reflected in the way we teach."
April is Autism Awareness Month
As autism awareness has skyrocketed, the disability—which experts are now calling an "epidemic"—has become a national priority.
The latest report, co-authored by the U.S. Health Resources and Services Administration and the U.S. Centers for Disease Control and Prevention, found autism spectrum disorder affects one in 50 children, well above the one in 88 number that had been used by the CDC just last year, and three times the rate the CDC found a decade ago.
According to a recent survey by the Florida Institute of Technology, nearly two-thirds of young moms and dads are concerned their child will be diagnosed with ASD.
"Since the average school bus holds 50–55 children, that means, statistically speaking, on average there is one child with parent-reported ASD on every school bus in America," reported the National Institute of Mental Health.
The increase, experts say, is largely due to improved diagnosis of ASD by doctors or other health professional in recent years, especially when the symptoms were mild.
Along with increased awareness, the social landscape has changed dramatically for students diagnosed with autism.
Politically, autism is a hot-button issue that's on the agenda of many lawmakers, who advocate a range of services, from respite services to mandated health insurance coverage for various therapies like applied behavior analysis (ABA).
Delegate Eileen Filler-Corn (D-41), whose brother-in-law has autism, has been a long-standing advocate for expanded health insurance coverage for autism spectrum disorder, and co-patroned several bills that address the issue.
Politics aside, most parents want to know what education services are available for their autistic child.
"Because of the size of Fairfax County, we are able to offer programs that few schools districts in the nation can provide, which help guide both students and parents through the education process," said Fairfax County School Board member Ryan McElveen. "Fairfax County uses Applied Behavioral Analysis with Pre K-12 students. The primary objective of ABA is to prepare students with autism and related disorders to function as independently as possible," said McElveen.
THE APPROACH emphasizes the importance of looking at the ABC's (antecedents, behaviors, and consequences) of behaviors and teaching new skills and behaviors.
New skills are taught through techniques such as reinforcement, shaping, prompting, and data is analyzed to measure progress on the acquisition of new behaviors and new skills.
"When you hear the 'A' word dropped, you think the worst, that your child won't be able to communicate and will never live an independent life," said Bernie DeLeo, a former special education teacher and drama teacher at Thoreau Middle School, who now teaches drama at West Springfield High School.
He said he and his wife, who grew up in McLean, moved back to Fairfax County from New York City in 2002 because of the programs and services offered by Fairfax County Public Schools.
"It's important for parents to be advocates, and to keep their expectation levels high. My wife and I were very hands on with our son. We expected more out of him, and he's surprised us at every turn."