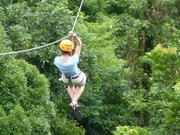 Potomac — It's less than one month before the onslaught of the new school year. Homework, after-school activities, athletics and schedules will soon begin and continue for the next 10 months. Right now is the time to be thinking about how to best pack in some end-of-the-summer day-trip activities for your family to enjoy.
Here are some innovative, action-packed — but close-by ideas — for finishing off this summer with a bang.
Pump up the adrenalin with fun and adventure at Harper's Ferry, W.Va.
Just one hour away from Potomac lies a new adventure paradise with a myriad of activities for the entire family. The Potomac River site features Canopy Tours (zip-lining), tubing, canoeing, stand-up paddle boarding, kayaking and more. There's also an Aerial Forest Adventure Park with a five trail challenge course. Both flat-water and white water tubing are available with or without a guide. Other activities at Harper's Ferry include rock climbing, fishing, hiking, biking — and a tour of the historical area and museum. For directions, prices, reservations and to learn more about Harper's Ferry, check out www.harpersferryzipline.com or call 800-326-7238.
Get a good dunking, rush down waterslides and enjoy a good soaking in the "Spray and Play" playground at Cascade Lake in Hampstead, Md.
Most Potomac residents are unaware that a 6-acre lake with waterslides, platforms, paddleboats, fishing and a "Spray and Play" playground is located only 65 miles northeast of Potomac. Cascade Lake is a spring-fed lake with a sloping sandy bottom — perfect for kids and adults of all ages. This lake is nestled among hills and forests and provides a get-away to a peaceful and serene setting. This lake is open from Tuesday through Sunday (closed on Mondays) from 10–6 on week days and 10-7 on weekends. For directions, entrance fees, a view of the lake and "Spray and Play" playground, go to www.cascadelake.com or call 410-374-9111 or 410-239-4708.
Escape to Old Rag Mountain for a spectacular hike and/or for challenging (but fun) rock climbing.
Old Rag Mountain is the most popular trek in Shenandoah National Park, located just two hours from Potomac. The hike to the 3,091 ft. high summit of Old Rag Mountain is somewhat challenging but offers gorgeous views. The choices for climbs to the summit are a 7.1 mile circuit hike or a 5.4 mile out-and-back hike. The hike involves scrambling up and over rocks, sometimes difficult for inexperienced hikers. Allow 7 to 8 hours to complete the hike, take plenty of water and wear sturdy shoes or hiking boots. Old Rag is also a unique destination for rock climbing in the mid-Atlantic region. The climbs are between 50 and 100 feet in length, and range in difficulty from beginner to expert. Check out Old Rag Mountain at www.nps.gov/shen/planyourvisit/old_rag.htm.
11 coasters, a water park and chocolate — Hershey Park has it all.
No matter one's age, Hershey Park has something for everyone. Wild and tame rides, 20 rides for the little ones, 65 rides for older "kids," roller coasters, musical and variety shows for young and old, a water park with nine unique attractions and lots of food and beverages. Hershey Park is located north of Potomac, near Harrisburg, Pa. Don't miss Hershey's Chocolate World which includes the Great American Chocolate Tour Ride. To learn more about this fun amusement park, go to www.hersheypark.com.
Get-away to America's oldest Amish settlement in Lancaster, Pa.
Thousands of Amish still live a century-old lifestyle where horse and buggy are the main mode of transportation and the customs have remained unchanged. Windmills provide their power and electricity is something that others have. Take a horse and buggy ride through the tranquil Lancaster countryside. Explore the many Amish-themed attractions, and events, shop for hand-made Amish crafts, and chow down on some authentic Pennsylvania Dutch cooking. To learn more about the highlights of this area, or to make reservations, go to www.padutchcountry.com/activities/amish-activities or call 1-800-PA-DUTCH.
Take a ride down Cunningham Falls.
A trip to Cunningham Falls State Park in Thurmont, Md. (an hour and 15 minutes) would not be complete without a ride down the scenic 78-foot waterfall. Cunningham Falls is the largest cascading waterfall in the state of Maryland and, according to signs on the trails: the Catoctin Mountains are the oldest mountains in the world and were once the tallest. They were formed by volcanoes, and the rocks along the hike are volcanic rocks which are among some of the oldest exposed rocks in the world. The mountains "shrank" thanks to earthquakes, lichen, moss, erosion and other such environmental factors which have taken their toll over millions of years. Other parts of this adventure include a picnic by the lake, kayaking canoeing, fishing and swimming in the lake. Learn more about this park at http://www.dnr.state.md.us/publiclands/western/cunningham.asp or call 301-271-7574.
Commemorate the 150th anniversary of the Battle of Gettysburg.
The 1863 Battle of Gettysburg is considered to have been the turning point of the Civil War. More men fought and died during the Battle of Gettysburg than in any other battle fought in America before or since. Begin the visit at the Gettysburg National Military Park Museum and Visitor Center, located at 1195 Baltimore Pike, just south of historic downtown Gettysburg. The Museum and Visitor Center features the Cyclorama, Film and Museum Experience. Plan a battlefield tour by selecting from several options: a Gettysburg Licensed Battlefield Guide bus tour; a personalized Licensed Battlefield Guide car tour; or a self-guided audio CD tour, available for purchase in the Museum Bookstore. One can also arrange a tour of the Dwight D. Eisenhower Home and the Eisenhower National Historic Site. To learn more, to pre-book tours and purchase tickets, go to www.gettysburgfoundation.org or call 717-338-1243. Gettysburg is a 1 and a half hour drive from Potomac.