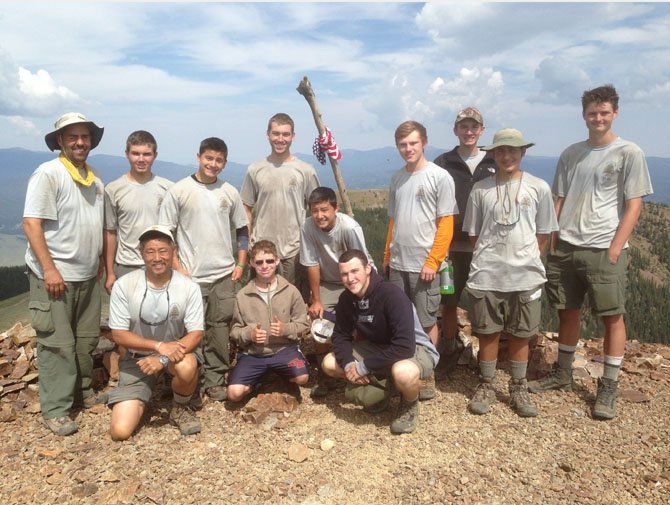 Ten teenage Scouts and two adult leaders from Troop 55 in Great Falls went on a life-changing trek through the Sangre de Cristo Mountains (part of the Rocky Mountains) at Philmont Scout Ranch in Cimarron, N.M., this summer. Philmont covers 214 square miles of wilderness with trails that climb from 6,500 feet to as high as 12,441 feet. During their trek Boy Scout Troop 55 High Adventure participants hiked almost 100 miles over 12 days. Based on Scoutmaster Gary Pan's Fitbit recordings, the crew took 343,375 steps, climbed the equivalent of 1,677 flights of stairs, and burned about 45,373 calories carrying packs that weighed more than 40 pounds.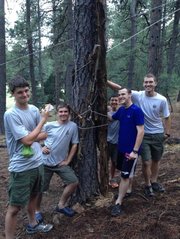 The conditions were challenging, according to Scoutmaster Pan. "We endured high temperature sunny days, rain, flash floods and even hail on two occasions. At one point we had 5.3 inches of rain in 45 minutes. Rivers were running through our camp as we were just starting to set up our tents. The rain came on without notice." The trek included a conservation project where Scouts participated in the upkeep of Philmont's ecosystem and helped with the construction of a new trail.
"We had a four foot rattlesnake in our first camp which was going after some birds in the bushes. It came within a couple of feet of us," recounts crew member Mitchell Pan, 15. "Another day, we saw a mountain lion eating a deer that it had just killed," continued Pan. "We even saw a bear asleep in a tree and watched him wake up and wander off down the trail."
Trek highlights included excursions to the Tooth of Time peak, and Mount Baldy (the highest peak in the Cimarron Range at elevation 12,445 ft. According to Daniel Reuss, 14, "It was awesome and eerie at the same time as we stood on rocks that seemed to just drop off over the edge. And when we got to the top of Mount Baldy, after a really tough rock scramble, and you could look back across the other mountains we had climbed over earlier in the week … It was hard to believe we had hiked all that way and were so high up."
On the second-to-last day of their trek, the crew added a burro to their crew.

Seventeen-year-old John Fouse recalled, "We worked with a burro for two days which was both a responsibility and relief as we cared for the animal, and he carried some of our gear."
Philmont Scout Ranch is the Boy Scouts of America's premier high adventure camp and the largest youth camp in the world. While the Crew was at Philmont they shared in the celebration of the one millionth participant since 1938.
"I'd go back again in a minute," said Drew Dudzik, 17, "It was awesome. It was a great trip I'll always remember."