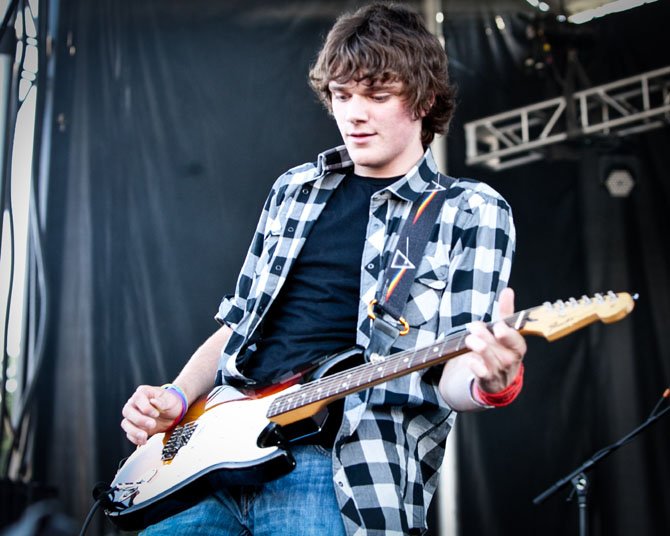 Centreville — This fall, junior Jason Saitta will be one of the leads in Chantilly High's musical, "Evita." But his summer was also none too shabby.
Primarily a musician and songwriter, Saitta, 16, was one of 78 high-school students and recent grads who attended the Grammy Foundation's ninth annual Grammy Camp. It was held, July 13-22, at the University of Southern California's Thornton School of Music, and 1,000 students applied.
Just 74 from all over the U.S., plus four international students, were accepted — and he was one of only 12 songwriters chosen. "I was so excited; I couldn't believe it," he said. "It was absolutely amazing — probably the best experience I've ever had musically."
Saitta plays several instruments, but mainly guitar. He also sings, plays in two bands and is taking piano lessons. He and friend Max Snyder are in an acoustic band, The Exceptions, playing covers plus songs Saitta wrote, ranging from classic rock to modern pop. They've played at Clifton venues and have a three-song EP coming out soon.
In addition, Saitta plays in the band, "That's What She Said," which does classic and alternative rock. He especially likes acoustic music because it's "a more intimate environment with the audience. You can convey emotion better because you're not as drowned-out by instruments; it's just you and a guitar."
He's written songs since he was in middle school at Rocky Run. "After my first relationship ended, I wanted to put my feelings on paper, rather than keeping them bottled up," he said. "And I like writing songs that mean something to me and aren't about superficial things. People relate better to you that way; songs with good lyrics that hit you right in the heart make them more memorable."
Saitta's written about 22 "good songs," he said. "I write a lot about love — a mix of ballads and upbeat music. Applying to Grammy Camp, he had to submit two songs he wrote and either performed, himself, or someone else performed. He also submitted a video essay, speaking his mind sincerely.
At camp, he attended daily songwriting classes taught by Thornton's vice-dean. "He recommended we read the book, 'Steal Like an Artist,' because he said lightning — inspiration — doesn't strike when you want it to. But the best artists take pieces from other songs — taking the core elements that make a song what it is and transforming them into their own thing."
For one assignment, his group removed the lyrics and melody from "Papa's Got a Brand-New Bag" and discovered a blues song underneath. Then they had to write a response song in that same style. "After we performed it, a multimedia student asked if he could make a music video out of it, and he did," said Saitta. "It was the first music video made in Grammy Camp history, and it turned out great."
Guest speakers gave pointers on making it in the music industry, making money from songs and getting music internships. "We also had famous speakers, including Ryan Seacrest and A.J. McLean from the Backstreet Boys," said Saitta. "They were part of a panel talking about their big breaks in the industry."
"I was a novice before I went to Grammy Camp and had no idea how I was going to have a future in music," he continued. "Now I know you do it through internships, building relationships and networking."
The students also took field trips; Saitta's group visited The Village Studios in Los Angeles. "It's where Stevie Nicks, Pink Floyd, John Mayer and Lenny Kravitz recorded," he said. "One of my favorite bands of all time is Pink Floyd. There was a lot of history in that place — it was a cool environment."
Saitta said the students had to write several songs within a time limit, together and individually. Each also received a private lesson with an instructor. "I played three things I'd written before for him, and he critiqued them," said Saitta. "He said they were similar musically and only used a few chords, so he gave me tips on how to change them up and make them more interesting."
However, the instructor liked Saitta's lyrics. "That's the part of songwriting I like best," he said. "The words tell a story, and that's what listeners relate to. You paint a picture in their heads."
At camp, he said, "I learned that you have to surround yourself with people as passionate about music as you are, or you're not going to be happy. That's why the camp was great; everybody wanted to be there and was the best of the best that applied."
Saitta said the students were advised to be diligent, work hard and build relationships with almost everybody in the industry — marketers, songwriters, singers, musicians, etc., to be successful. Toward that end, he got the phone numbers of all the other students there.
Then when he got home, he sent an acoustic demo of a song he wrote to a drummer and a saxophone player and asked them to create music they thought would fit in certain parts of the song. "They live in two, different parts of the country, but they did it, recorded it and sent it to me," said Saitta. "Now I'll send it to an audio engineer friend I made, and he'll make it sound great. It really is the definition of networking."
He said the camp gave him a better understanding of how the music industry works and how to improve his songwriting. "I learned how to make each song stand out so people will want to listen to them, over and over," said Saitta. "You want to make all the songs on your CD appeal to as many people as possible."
Overall, he said, "The camp was incredibly worthwhile. I'm going to apply again next year." For more information, plus samples of his music, go to
http://youtube.com/jasonsaittamusic/ and http://facebook.com/jasonsaitta/.