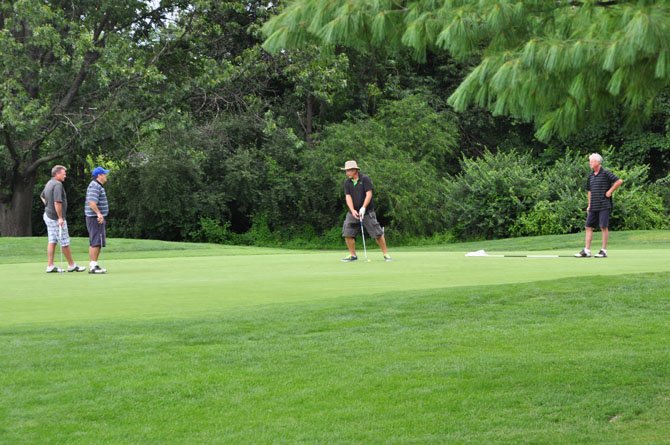 Herndon — Though the grounds were damp from the night before, and the skies threatened rain in the morning, that didn't stop more than 100 golfers from taking to the Herndon Centennial Golf Course Thursday, Aug. 1. They were there to support the Council for the Arts of Herndon during the annual fundraising tournament hosted by Jimmy's Old Town Tavern.
"I got asked to be in a foursome as sort of a last minute thing, and I'm sure glad I got the day off and could spend it out here for a good cause," said Terry Nielson of Sterling. "About the only thing I can complain about is that I didn't play that well."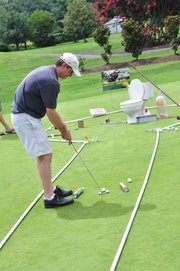 This was the 16th year Jimmy's Old Town Tavern has hosted the tournament to benefit the Herndon Arts Council. The council is a nonprofit that supports arts and artists in all forms across the community. In addition to the various events, programs and workshops they host, the council also awards scholarships to local students every year.
"The arts are a signature part of Herndon, which is why the Herndon community comes out to something like this to support them year after year," said Jimmy Cirrito, owner of Jimmy's.
In addition to the standard 18 holes of golf, various challenges were strewn across the course for players to compete in. One hole featured a hockey net that golfers tried to score on, another one featured trivia questions.
"We try and keep things interesting, there's a Harley Davidson motorcycle on the fifth hole, and a Subaru at the seventh hole. Any golfer that gets a hole in one on those holes wins the prize," Cirrito said.
The putting green was transformed into something that would more likely be found on a mini-golf course, with PVC pipes, levels, paint cans and a toilet.
"It was a very creative hole with all the construction equipment, but also very challenging," said John O'Malley of Herndon. "Also, the toilet sticks out so much that you wanted to aim for it, but it turned out you wanted to bounce the ball off the level just next to it."
Those who were able to sink the putt were entered into a drawing, where they would win a chance at $1,000 if they could sink a 50-foot putt. The hole was sponsored by CB's Professional Services, the contractor who is building the new addition to Jimmy's, the "Buffalo Wing."
Mayor Lisa Merkel and Democratic state delegate candidate Jennifer Boysko could be found throughout the day delivering drinks to golfers on a golf cart, while several other holes also had refreshment stations.