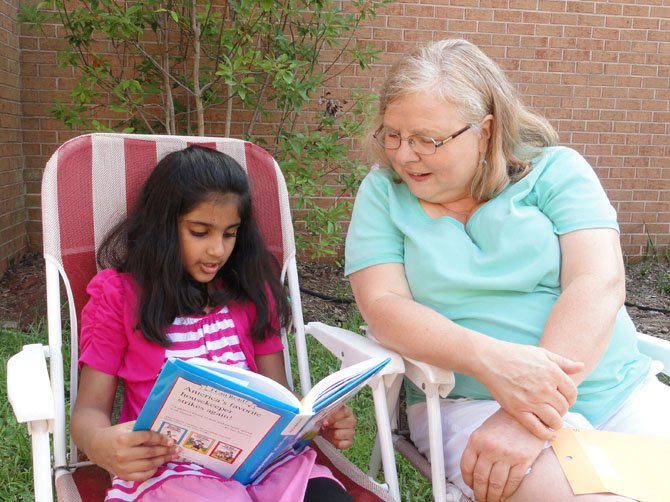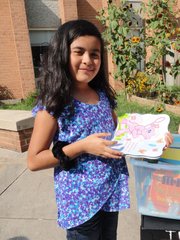 Centreville — London Towne Elementary's summer reading program was called, "Read — A Need You Can Feed." And that need was met in two ways.
When children came to brush up their reading skills, they were fed literally, getting to enjoy treats such as pizza, hot dogs, chips, juice and pudding. Their minds were also fed, as volunteers from Centreville Presbyterian Church (CPC) came to school and read stories with them.
The program was held two days in July and two days in August. It was for rising first- through sixth-graders, and about 130 students total participated, as did some 15 volunteers from the church.
"We invited 'reluctant' readers or those lacking access to books at home," said London Towne reading specialist Shele Banford. "The idea is to eliminate that summer reading loss and, ultimately, to close the achievement gap. If these children don't keep reading, their peers who read over the summer are even further ahead of them in reading when school begins again."
It's the second year the church has done this program and, before it even started, CPC held a book drive. The members collected about 300 new and gently used books, which were then donated to the school.
"[CPC's Director of Missions] Sharon Hoover asked me for a list of high-interest books the kids wanted to read," said Banford. "Then those who came got to choose and take home the books they read. We invited parents and siblings, too, so it's a family affair."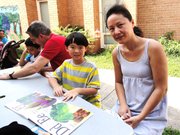 Grateful for the church's help, Banford said, "The program wouldn't be what it is without CPC's manpower and resources. As a school, we don't have the capability to provide these books for the students to take home. This also builds a sense of community between the school, neighborhood and church, plus a rapport and trust with the families."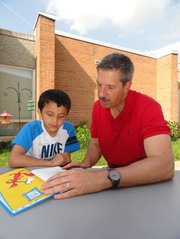 Last Friday, Aug. 2, from 4-5:30 p.m., students and adults read together on picnic benches or on chairs on the lawn in a courtyard behind the school. "The kids sign in and then, based upon their grade level and interests, we'll direct them to particular books we think they'd like," said Banford. "Then the volunteers read with them and, together, they'll also talk about what they're reading."
Rising third-grader Evelyn Gonzalez called the summer reading program "a lot of fun because we get to pick out books." Saying her favorites are chapter books and "Beezus and Ramona" by Beverly Cleary, she added, "I love books because I learn a lot of things from them."
Besides the other CPC members who read with the children, so did the Rev. Rob Bromhead. "What got us excited is that the staff here was so happy with how well the students did on their SOLs after participating in this program last summer," he said. "And the number of students that have come out each week so faithfully has been encouraging."
Furthermore, said Bromhead, "We're in a partnership with London Towne throughout the year to meet some of its needs. So this summer reading program gives us, as a church community, a wonderful way to serve as a partner."