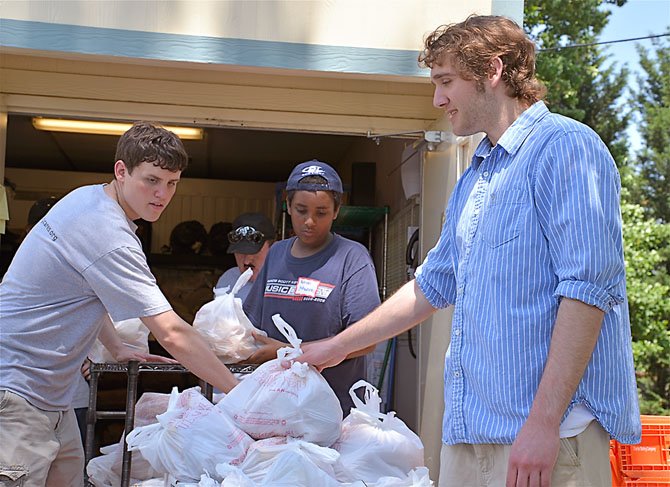 The Lorton Hope and Health Festival was scheduled from 11 a.m.-1 p.m. on Saturday, June 1, but a good-sized crowd had
already gathered in the park venue located behind Lorton Public Library and alongside the headquarters of festival organizers Lorton Community Action Center (LCAC) quite some time before the first words of the official welcome were spoken.
Linda Patterson, executive director of LCAC, was pleased by the early turnout. "We really have two goals for the day—to provide free access to some health-related services to the community, and to provide a fun, safe environment where people can meet one another and enjoy an outing." The non-profit organization seeks to provide low-income individuals in their service area with access to basic needs and empower them through self-sufficiency programs.
"A key component of our work is to connect people with the programs that are out there that will have a positive impact on the individual's or family's long-term health and well-being," Patterson said. To accomplish the goals of the day, LCAC began a dialogue about six months ago with South County Cares, the community service arm of South County Church in Lorton, and Sentara Healthcare. The groups put together an educational and fun-filled event, with something of interest for all ages.
White tents were scattered throughout the park, each housing a service station, an information booth, or a dining area where the festival goers could relax in the shade while feasting on free hot dogs, snow cones and other goodies being prepared by the volunteers of South County Cares. The Sentara folks conducted screenings for high blood pressure, performed Body Mass Index tests, and offered information about stroke prevention, diabetes and heart health. They even offered tours of their mobile mammography van, scheduled soon to offer screenings at LCAC. INOVA offered on-the-spot cholesterol checks and the Maon Neck Lions Club provided vision and hearing tests in their mobile lab. Representatives from the Health Department, The Medical Care for Children Partnership, the Office for Women and Domestic and Sexual Violence Services and Child Find, which helps identify children with potential special education needs, were also on hand. Gold's Gym and Total Lifestyle Fitness got everyone moving with Zumba demonstrations, Yoga and even mini fitness bootcamps.
Sounds like the first goal, to provide free access to some important basic services, was well met by this caring army. What about the second goal? Just ask the children. The Kids Zone, manned by South County Cares youth volunteers, included games, a moon bounce and inflated slides and mazes. A number of moms looked as thrilled as their young ones, availing themselves of free haircuts and chair massages.
This was LCAC and partners' first Hope and Health Festival. Judging by the turnout and the smiles and laughter, it probably won't be their last. Mission accomplished. Check out the LCAC website at www.lortonaction.org to see what might be up next.