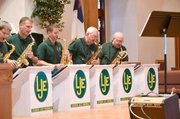 The Loudoun Jazz Ensemble performed at the fellowship hall of
Trinity Presbyterian Church in Herndon on the afternoon of Sunday,
Aug. 18. The program began with a selection of songs including
"Take the A Train" by Ellington and Strayhorn and "Someone to
Watch Over Me" by George and Ira Gershwin.
The Loudoun Jazz Ensemble (LJE) was formed in January of 1997
by Dick Schroeder and is a performing organization of the Loudoun
Community Band, Inc. The purpose of the LJE is to provide a group
in which area musicians who have a strong interest in "Big Band" jazz can rehearse, and to bring the results of their efforts to the people of the surrounding areas.
The LJE performs a wide variety of the big band music, from the '40s through today.The LJE is under the direction of Roger Rossi, a former member of the Army Blues Jazz Ensemble.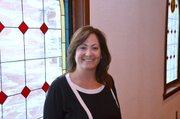 "We rehearse at the fellowship hall here at this church," said
ensemble member Richard Moreno. Moreno is a congregant of Trinity Presbyterian Church. "I have been with this band since 1997, and I am one of the oldest members of the band," said Moreno.
"We are building up a music series with one concert a month, this
show was the kickoff," said Tricia Neff. A resident of Ashburn, Neff
has been the music director for Trinity Presbyterian Church for 11
years. "
The music series will be free and open to the public. We have
the space and are able to bring shows of all sizes. ... Our next show
will be the William and Mary Jazz Ensemble, and they are scheduled
to perform on Sept. 28," said Neff.
After the show concluded, church congregant Eunice Sutter stayed to speak with some of the performers. "It is a wonderful show, the talent was amazing. We love the performances and I look forward to more," said Sutter.
To learn more about events at Trinity Presbyterian Church, visit their
homepage at: http://www.trinityherndon.org. To learn more about the Loudoun Jazz Ensemble visit: http://
www.lcbandinc.org/ljehome.htm.
More like this story