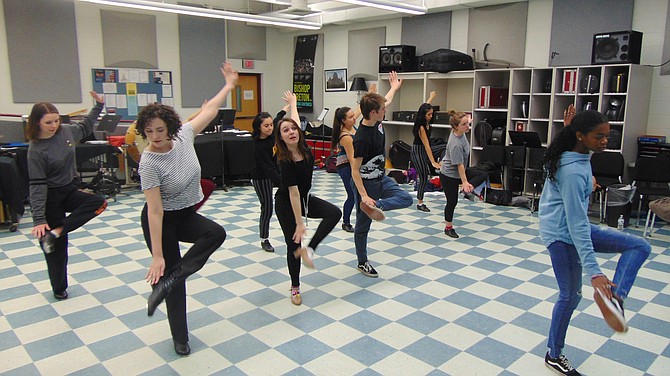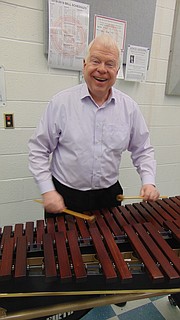 With a cast of 30 students, Bishop Ireton High School is presenting the musical, "Curtains," from March 22-30. The show is a parody of 1950s "whodunit" theater mysteries, where a lone detective, Lt. Frank Cioffi, investigates a series of murders that take place behind the scenes of a fictional cowboy musical, "Robbin' Hood."
The cast of "Robbin' Hood" is forced to stay inside the theater while Boston Police Detective Cioffi unravels the mystery, getting involved with the show and falling in love with ingénue Niki Harris in the process. The show opens in 1959 when Boston's Colonial Theatre is host to the opening night performance of "Robbin' Hood."
When the leading lady mysteriously dies on stage during the curtain call, the entire cast and crew become suspects. Enter Cioffi, who happens to be a musical theater fan. The plot goes back and forth between trying to solve the mystery and rehearsing for "Robbin' Hood" with a new leading lady.
According to Joanna Henry, director of Theatre Arts at Bishop Ireton, who directs and produces all the main-stage shows and oversees the theater activities: "It's ridiculous fun. It's like an homage to the old murder mysteries and its [John] Kander and [Fred] Ebb, the lyricist and composers; they did 'Chicago' and 'Cabaret.' So, the music and lyrics are fabulous."
She continued: "One of the biggest challenges we had to face was not being able to rehearse because of the weather. We had eight rehearsals cancelled because of snow days so the students have worked hard to make up for lost rehearsal time. The music is not easy and it's a fairly big dance show, so there are a lot of dances."
A highlight of the show is Dr. Randy Eyles, 67, the retired chair of Bishop Ireton's Fine Arts Department for 15 years, who has returned to play in the pit. For 23 years, he also played percussion in the U.S. Air Force Band.
"I'm excited to play in the pit for 'Curtains' because playing percussion for a musical is challenging. I've been having fun practicing to prepare and it's going to be great to be around the B.I. community to be part of the show. It's exciting for me to work on pieces of music and to perform, and playing percussion in a pit in a show is particularly challenging to play so many different instruments with just one player."
He added: "There's probably 20 instruments all together, the trick is to organize them in such a way that you can get to them in time and be able to play them."
As the Fine Arts chair, he was the Bishop Ireton band director for the Symphonic Wind Ensemble. Over the years, they expanded the music department, offering guitar, jazz ensemble, and choir classes. He also taught the jazz band and guitar classes as well as AP music theory.
Joey Pagnella, 18, of Alexandria is playing the role of Darrell Grady, a theater critic from the Boston Globe. "I'm a shady individual and my job is to review 'Robin Hood,' the production within the production, and I'm writing a pretty pivotal review for the show," he said.
Pagnella, who plays basketball and football for Bishop Ireton, said this is his first time being in a play. "So, I've had to learn how to keep my voice up and memorize the lines. It's a big transition and I'm having a lot of fun. I get to meet a lot of people that I don't usually see throughout the day and it's been a positive experience."
Olivia Hays, 18, of Alexandria is playing the role of Jessica Cranshaw who dies in the beginning; she's also a member of the ensemble. "She is someone who thinks too highly of herself. She's used to being treated like she's a big star, but she doesn't have the talent to back any of it up and she really makes the show horrible for a lot of people. She can't sing at all, and can't really act. Someone decides to take her out so that another person can take on her role and make it a better show," she said.
Reyna Osborne, 17, of Alexandria is the show's choreographer and costumer. "We had to do our research of different dances they would have done back then. Like Gene Kelly and Fred Astaire, and we had to listen to the music, because there are so many different genres, we had to be flexible — there's some ballet and jazz," she said.
Molly Gaffney, 18, of Alexandria plays Rosie Driscoll in the ensemble. "I did get the freedom to come up with her background, which is a perk of being in the ensemble. I like to consider myself as the jealous one who's overly emotional. There's a couple of curve balls in the show so I try to overdramatize things and maybe be a little jealous which has made it more fun for me."
As far as audience takeaways, she said: "I hope they know how much fun we had putting it all together and how collaborative our group is. From what I've been exposed to, there's been nothing but support and helpfulness."
Bishop Ireton High School is presenting "Curtains" from March 22-30. Show times are March 22 and 22 at 7:30 p.m.; March 24 at 2 p.m.; and March 29 and 30 at 7:30 p.m. The venue is located at 201 Cambridge Road, Alexandria. Visit www.bishopireton.org.