When retired Fairfax police officer Bryan "BA" Wolfe was selected as the Republican nominee for Fairfax County Sheriff last week, he vowed to "restore the public trust" by making the 500-member department more "accountable and transparent."
He also pledged to donate his salary to charity if he wins against Democratic challenger Stacey Kincaid in the Nov. 5 special election.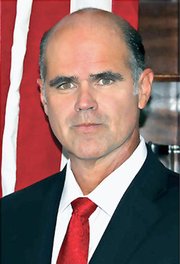 Wolfe's campaign promise echoes a similar pledge made by former Sheriff Stan Barry during his 2011 run.
Barry's salary pledge and his participation in the county's Deferred Retirement Option Program (DROP) ignited the "DROP Stan Barry" bomb. County Republicans hammered Barry for his participation in DROP, claiming Barry could collect nearly $1 million in pension benefits in a program never intended for elected public officials. Barry, whose salary was set at $160,000 a year by the Fairfax County Board of Supervisors, challenged the claims.
FIRST ELECTED SHERIFF IN 1999, Barry announced last May that he would retire in July, launching the special election between Wolfe and Kincaid. The winner will serve the remaining two years of the sheriff's four-year term.
"[Wolfe's] pledge to donate his salary to charity shows clearly how passionate he is that leadership changes are needed at the department," said Jay McConville, chairman of the Fairfax County Republican Committee (FCRC), in an Aug. 15 news release.

"I am running for sheriff to restore the public trust and confidence in our law enforcement community," Wolfe, 51, said. The U.S. Air Force veteran said he will hold the Sheriff's Department "to a higher standard of accountability than previously held and I will work to create greater transparency that is so necessary."

McConville said Wolfe's record of service, both in the military and as a police officer, "demonstrates the kind of commitment to community and selfless service so needed at the top of the Sheriff's Department."
"I strongly believe in a leadership style encouraging participation which calls for greater involvement from all levels of the Sheriff's Department and I have the necessary skills, knowledge and drive to effectively serve as the next sheriff," Wolfe said.
A 1979 graduate of Robinson Secondary School, Wolfe joined the U.S. Air Force in 1981. He is an 18-year member of American Legion Post 177 in Fairfax and a member of the National Rifle Association. Wolfe has earned several awards for his service to his community, including being named Policeman of the Year twice, as voted by his peers in the department. He and his wife Kelly live in Clifton and have three daughters and two sons.
Kincaid, a graduate of Frostburg State College, began her career with the Fairfax County Sheriff's Office in 1987. She said a summer internship at the Sheriff's Office "sparked my interest in a career as a deputy sheriff." In 2008, she received the agency's highest honor, the Distinguished Service Award.
A Vienna resident, Kincaid won the Democratic nod against acting Sheriff Mark Sites in a caucus last month.
Kincaid said that while she is focused on the three main functions of the sheriff's office—running the county's jail, performing security at the courthouse and serving civil process—she also wanted to "bring the agency forward."
"As the largest sheriff's office in Virginia, we should be the role model for the commonwealth," she said after her win over Sites last month. She added that she wanted to focus on diversity inside the department as well as in community outreach efforts.
"When I say diversity, I am talking about diversity of thought, values and beliefs, not just skin color," Kincaid said. "We need the office to respect and reflect the diversity in our community. … Listening and learning is an important part of forging a relationship with the community."
THE FAIRFAX COUNTY SHERIFF'S OFFICE is responsible for managing the Adult Detention Center, providing security in the courthouse and serving civil law process. The sheriff and the sheriff's deputies have civil and criminal jurisdiction in Fairfax County, the City of Fairfax and the towns of Vienna and Herndon.
"Our sheriffs serve our community well, and they deserve someone who has a passion for service and not a continuation of the establishment bureaucracy that has failed for years to provide the type of leadership needed," McConville said.