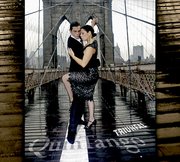 QuinTango, a chamber tango music group with international acclaim, will play at Lorton Workhouse Art Center on 9601 Ox Road on Saturday, Aug. 24 at 7 p.m. The concert is free and concertgoers are invited to listen to the music sponsored by the Fairfax County Park Authority, with seating under a tent, and take in the sounds of Buenos Aires.
The QuinTango players are a quintet of two violins, cello, bass and piano and they will be accompanied by dancers Anton Gazenbeek and Mandi Messina.
Joan Singer, the founder of the group and an Alexandria native, started Quintango 15 years ago after playing tango music for fun for a long time. QuinTango is the only tango music group to give a Command Performance at The White House and the only American tango group to give a Command Performance at the U.S. Embassy in Buenos Aires.
A finalist in the 2004 International Tango Competition, QuinTango has been heard on NPR's Morning Edition, CNN and network television in both the U.S. and Costa Rica. They have also won WAMMIE awards five times. The group is currently working on its sixth album.
In the same way that jazz represents African American culture, so also tango evokes a broad spectrum of the culture of Buenos Aires and the Rio de la Plata. "I love the international aspect of the music, the fact that people all over the world love tango music and have their own takes on it," Singer said. "There are tango communities everywhere you go in the world. Wherever you are, there are people that love tango and that dance to it, like an underground river which, if you know about it, can sweep you away."
The QuinTango players tell stories about their music and their adventures in Argentina throughout the concert, between songs. They will be signing CDs afterwards. The concert is free, and those who feel so inclined are welcome to dance on the grass.