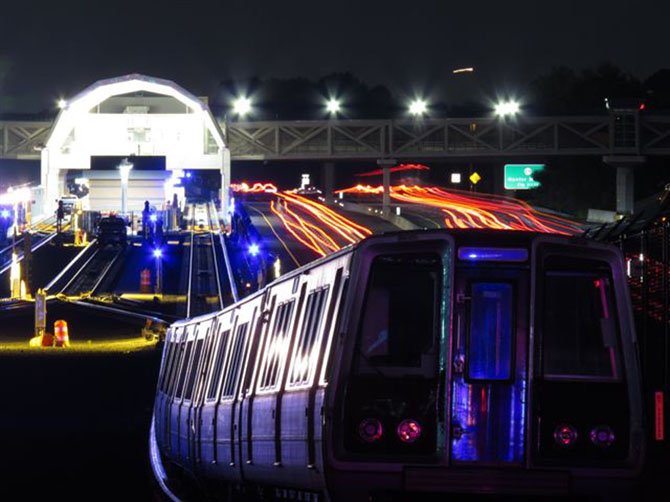 Fairfax County — When the first trains of Metro's Silver Line start carrying passengers, around February 2014, it will mark a new era for Northern Virginia, particularly the northern part of Fairfax County. By 2018, riders from Ashburn, Sterling, Herndon, Reston and McLean will have access to Dulles Airport and Washington, D.C. via the Silver Line.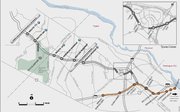 In June 1996, the Virginia Department of Rail and Public Transportation conducted a study that concluded that a rail located in the median of the Dulles International Airport Access Highway would provide the best opportunity to move people along the corridor and decrease traffic congestion.
The Dulles Transit Partners, a group of companies that would eventually serve as the design and build contractors for Phase One, was formed in October 2000. In June 2004, the Department of Rail and Public Transportation signed the first comprehensive agreement with Dulles Transit Partners and construction broke ground in March 2009.
The Silver Line is being rolled out in two phases, the first of which is expected to be completed around February of next year.
THE 11.6-MILE PHASE ONE begins as an offshoot from the East Falls Church Orange Line Station and continues to Wiehle Avenue in Reston, with four Tysons Corner stations in between.
Construction on Phase One is 96 percent complete. Originally slated for a late 2013 opening, a delay was announced last month by MWAA.
"We are still anticipating a November construction completion date for Phase One. This is in line with the two-month delay previously announced," said Marcia McAllister, communications manager for Dulles Metrorail. "We are continuing to work with our Phase One contractor, Dulles Transit Partners, and with WMATA to complete this project as quickly as possible. However, we will not sacrifice safety and quality. All of us share the goal of providing the safest, highest quality project."
Once construction is complete, MWAA will hand the project over to the Washington Metropolitan Area Transit Authority, who will perform additional testing and give a more concrete opening date. The opening for passenger service is now estimated for February 2014.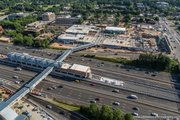 As of May 31, total expenditures on Phase One has been $2.454 billion, and the Metropolitan Washington Airports Authority estimates a total cost of $2.905 billion at completion, a number that includes a contingency reserve.
Phase Two will take the Silver Line all the way to Ashburn, with stops at Reston Parkway, Herndon, Innovation Center in Sterling, Dulles International Airport and it will conclude with two stations in Ashburn, one at Route 606 (Old Ox Road) and one at Route 772 (Ashburn Road).
MWAA received five bids for Phase Two construction in April and awarded the contract to Capital Rail Constructors, a joint venture between Clark Construction Group and Kiewit Infrastructure South, who bid $1.177 billion.
Pat Nowakowski, executive director of the Dulles Corridor Metrorail project, said he was "very encouraged" by the bid from Capital Rail Constructors.
"The winning proposal is well below our original estimates of $1.4 billion to $1.6 billion for this portion of the project, which hopefully will allow us to pass on additional savings to users of the Dulles Toll Road," he said.
On July 9, MWAA issued an official Notice to Proceed to Capital Rail Constructors, which officially initiates the contract for the construction of the six stations, 11.4 miles of track, guide ways an other components. MWAA President and CEO Jack Potter called the Notice to Proceed an important milestone. "This means crews will soon be in the field surveying, performing site preparations and making geological assessments when they finalize permits and other design work," he said. "Actual construction using heavy equipment and cranes will likely being in spring of 2014."
The project also includes construction of a new rail yard on Dulles Airport property, as well as improvements to the existing yard at the West Falls Church station.
According to MWAA, the notice sets a construction completion period of 60 months, meaning July 2018 is the target completion date. Both phases of the project were originally budgeted for a total cost of $5.25 billion, current estimates put the cost at around $5.6 billion.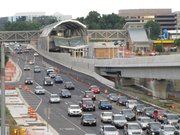 According to the funding agreement, Fairfax County will contribute 16.1 percent of costs, Loudoun County will contribute 4.8 percent and MWAA will contribute 4.1 percent. Those amounts are fixed by percent of the total costs.
The remaining costs, save for additional funding from state and federal sources, will be paid for by users of the Dulles Toll Road.
WITH SUCH AN INVESTMENT of time and money, Fairfax County is hoping to reap economic rewards from the Silver Line for years to come. Gerald Gordon, president and CEO of the Fairfax Economic Development Authority, says the Silver Line will be a major business catalyst for the region.
"Companies want to be able to get from Washington, D.C. to Dulles Airport the easiest way possible, which is what the Silver Line allows. For example, Intelsat [which announced last December that they would move their headquarters to Tysons Corner in 2014] said they came specifically to take advantage of Metro opportunities," he said. "The companies we're attracting aren't manufacturers, they don't require access to things like raw materials, they need access to ideas, concepts and creativity, and those are the kinds of things that can have a snowball effect on a workforce."
Gordon said that the county currently has about a 17 percent vacancy rate when it comes to office space. Plenty of new office space is under construction in Tysons Corner, with further development to come along the Dulles Toll Road as Phase Two progresses.
"With that kind of rate, you usually wouldn't see a lot of speculative building, but we've got it, especially in Tysons," he said. "There is going to be a challenge to fill existing spaces, but that's where we'll see a ripple effect from the big companies moving into the new space, an effect that will hopefully lead to small businesses marketing federally acquired skills that want to build around, and moving into contracting and subcontracting."
With such an emphasis on technology in the county, particularly in Tysons and the Dulles Corridor, Gordon says he has high hopes for the future of the region's tech business.
"Our new buildings are in high demand from many businesses. We're going to see a lot of world-class technology, cyber IT and biomedical companies coming, they're the future of the economy in this area," Gordon said. "There's a real opportunity for this county and region to become a leader in things like personalized medicine and life sciences. Those kinds of businesses, which rely on a technological approach to medicine, are in the market for an IT workforce, which is an area that this county dominates."