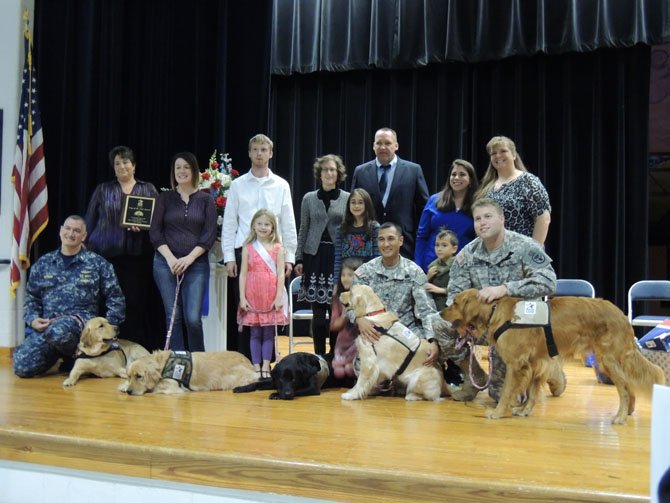 The graduation ceremony was like every other commencement. It included a graduation speaker, honored guests, the National Anthem, an invocation and a crowd of spectators cheering as the grads took their places on stage. They were proud to have just completed their schooling and ready to enter the next phase of their lives, meet more challenges and discover new horizons.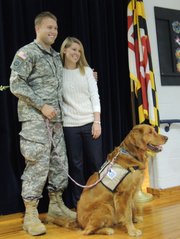 These honored graduates are five assistance dogs named Navi, Ron, Cadence, Birdie and Gabe. After 2 and a half years, these service dogs have mastered the required skills and intuition to become the best friend and partners of Wounded Warriors. The canine graduates also represent the success of the Wounded Warrior teams who trained them for their fellow Wounded Warriors and the puppy parent volunteers who cared for them in their homes.
The Warrior Canine Connection (WCC) is part of the National Intrepid Center of Excellence (NICoE) at Walter Reed National Military Medical Center, a state-of-the-art facility dedicated to the diagnosis, clinical care and research of Traumatic Brain Injury (TBI) as well as to the psychological conditions that affect Service Members and their families. Therapists at NICoE have discovered that teaching service members and veterans with combat stress to train service dogs for their fellow Wounded Warriors has shown promise as being therapeutic for the Warrior-trainers.
At the graduation, Rick Yount explained how WCC began: "It started about 18 years ago, when two friends were concerned about another friend and decided to give a very thoughtful, caring gift of a golden retriever puppy. I was the recipient of that puppy at the time." He was working with foster children and families and often took the puppy, Gabe, to work with him. Soon he realized that this "very special dog" was helping his clients deal with the trauma in their lives. He was struck with an "a –ha" moment that would change his life — and the lives of Wounded Warriors.
In 2008, he created a service dog-training program to address symptoms of Post Traumatic Stress Disorder (PTSD) and TBI in veterans and service members who are in treatment. WCC was established in 2011 for the purpose of expanding this concept to additional facilities caring for Wounded Warriors and "helping to bring the healing power of the best dogs to our heroes." Yount serves as executive director of WCC, a 501(c) 3 non-profit organization.
During the ceremony, Yount reflected on the original act of kindness of his friends giving him the golden retriever puppy and the subsequent acts of benevolence of supporters who have advanced the mission of WCC. He said that so many people have gotten involved, with the right people coming together at the right time. He specifically recognized the contributions of Vienna resident Patty Kennedy, who has supported his efforts over the past four years to demonstrate the efficacy of service dog training as a therapeutic intervention for the invisible wounds of war. A former aide to retired U.S. Sen. John Warner, Kennedy has also worked with Yount to convey to DOD and VA medical officials and policy-makers the benefits of the Warrior Canine Connection program to the nation's Wounded Warriors and their families. She was honored for her dedication and perseverance in the development of WCC and for serving by Yount's side at NICoE.
"I am very grateful to be involved in a program that has such positive impacts on injured combat Veterans and their spouses and children," Kennedy said. "I have witnessed firsthand the extraordinary capacity of WCC's dogs to know just what the Warriors need as they struggle to overcome their psychological and physical wounds. I have no doubt that with Rick's tireless determination, and the commitment of WCC's staff, volunteers and supporters, that WCC dogs will play an important role in the healing of Wounded Warriors in treatment facilities throughout the country and will be in the forefront of research associated with Animal-Assisted Therapy."
The service dogs are bred by Molly Morelli, WCC's dog program director and wife of Rick Yount, at their WCC's Brookville Training facility. The puppies are taught to open doors, fetch needed items, even to help the wounded vet take off socks and shoes. They turn lights on and off, open the refrigerator and accompany them everywhere, providing a sense of safety and security. Because of their unconditional love and dedication, they offer the Wounded Warrior a calm presence which helps them when they feel troubled or can't sleep. They also aid them in becoming more social — the dog serves as a social lubricant and helps the Wounded Warrior feel more comfortable in public places. In return, the Wounded Warrior must accept the duties of taking care of their dog and understand that patience, love and caring go along with owning an animal.
Vice Admiral Matthew L. Nathan, Surgeon General of the Navy and Chief of the Navy's Bureau of Medicine and Surgery was the keynote speaker at the graduation. He stated that he is "humbled by the people who serve and step forward wherever they are needed." In describing the Wounded Warriors, he said, "But then, all of a sudden, this heroic person is not the same — they are an amputee, has brain trauma, gunshot wounds or is suffering from the invisible wounds of the war. I've watched them fight their way back. These servicemen and women just want their lives returned — and a dog who loves so unconditionally can help them get it back. I am honored to be a part of this ceremony. It shows what can happen when you light one candle and pass it on to light the entire room. Thank you to the teams who have trained these dogs — and for the lives you will change."
The dogs were awarded to the servicemen and women and their families while the crowd watched.
WCC's program now includes 40 dogs — and some will be ready to graduate in the Class of 2014.
To become involved in Warrior Canine Connection or to donate to this valuable cause, view its website at www.warriorcanineconnection.org. For corporate donations or to discuss a major gift, call 301-260-1111.