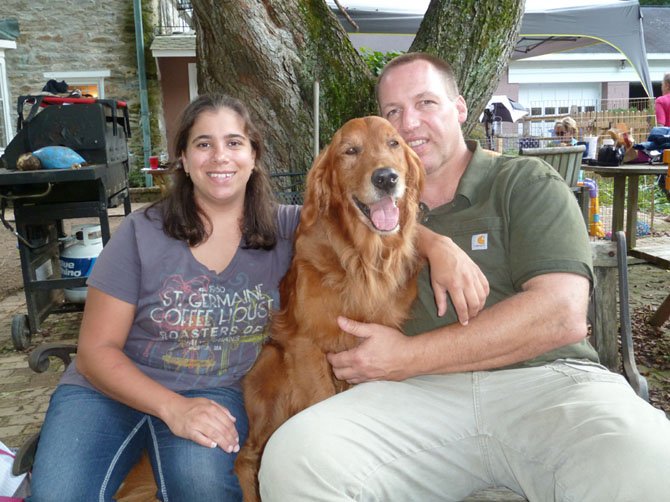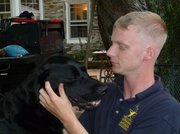 Vienna residents Patty Kennedy and Katherine Hutt have a lot in common. They are good friends, their children hang out together, they share a love of animals—and they are both passionately involved with the Warrior Canine Connection (WCC)—a 501© 3 non-profit organization established for "helping to bring the healing power of the best dogs to our Wounded Warriors." The organization teaches Service Members and Veterans with combat stress to train service dogs for other Wounded Warriors. Kennedy is employed by WCC as the director of communications and government affairs, and Hutt serves on the WCC Board with responsibility for marketing and public relations.
Kennedy worked on Capitol Hill on the staff of the US Senate for 23 years, including 13 years as an aide to Senator John Warner of Virginia. "When I retired I knew I wanted to do something involving animals," she said. "I have a passion for animals helping people. Before I joined WCC, I was the Administrator of the Patient Service Dog Therapy Program at Walter Reed Army Medical Center."
Kennedy is a former puppy raiser for a guide dog school as well as the author of "Through Otis' Eyes: Lessons from a Guide Dog Puppy," winner of a Maxwell Award from the Dog Writers Association of America, and "Bailey By My Side: Golden Lessons for Life."
Hutt, a Public Relations specialist, is the national spokesperson for the Council of Better Business Bureaus. She began volunteering with WCC when she learned that they needed support with their marketing and public relations. She now serves as a WCC Board Member. "I'm excited to be a part of this fine organization which truly makes a difference in the lives of servicemen and women. I see a tremendous amount of growth opportunities for WCC." Hutt was honored in 2004 with the lifetime designation of Fellow, PRSA, the highest professional recognition bestowed by the society for practitioners who exemplify excellence and give back to the profession and the community. She was also selected by Washington Women in Public Relations as "Washington PR Woman of the Year" in 1994.
THE IDEA for WCC was Rick Yount's. A social worker, in 2001 he initiated a program teaching troubled teenagers to train service dogs in Morgantown, W. Va.—a program with remarkable healing benefits for his non-motivated high school population. The award-winning Golden Rule Assistance Dog (GRAD) program helped the young adults develop their social and emotional skills. One day, Yount was struck with an "aha" moment that would change his life—and the lives of many Wounded Warriors forever.
Two of the dogs trained at GRAD by his students were presented to wounded veterans. "That's when I decided that it would make perfect sense to teach Wounded Warriors to train service dogs for other Wounded Warriors," explains Yount. "It would be a safe, effective non-pharmaceutical intervention to treat the symptoms of PTSD." In 2008, Yount initiated the first Warrior service dog-training program to address PTSD and TBI in veterans and service members who are in treatment. He currently serves as the executive director of Warrior Canine Connection (WCC).
Now, dozens of Wounded Warriors have become involved in training service dogs as a part of the WCC program. The WCC's "Healing Quarters" is located in a historic stone farmhouse in Brookeville, Md. where Yount and his wife Molly Morelli reside. The woodland setting provides Wounded Warriors with a peaceful site where they can work with the dogs as well as a refuge where they can heal.
"Training a service dog takes many of the skills that are needed to be successful in life," states Yount. "It requires patience, assertiveness, positive reinforcement, kindness, consistency, communication skills, love, responsibility and an attitude of never giving up or giving in."
The program is part of the National Intrepid Center of Excellence (NICoE) at Walter Reed National Military Medical Center, a state-of-the-art facility dedicated to the diagnosis, clinical care and research of Traumatic Brain Injury (TBI) as well as to the psychological conditions that affect service members and their families. Therapists at NICoE have discovered that teaching service members and veterans with combat stress to train service dogs for their fellow Wounded Warriors has shown promise as being therapeutic and healing for the Warrior-trainers.
Yount explains, "The most important benefit is the connection between the service member and the dog in training—as well as the sense of value that he or she gains from contributing to the well-being of another Wounded Warrior."
Meg Daley Olmert is the author of "Made For Each Other: The Biology of the Human-Animal Bond," the first book to explore the chemistry humans and animals can trigger in each other that creates the powerful sense of attachment we feel for each other and that fills us with a deep sense of well-being. Olment is also WCC's director of research and development. "Soldiers who work with dogs have lower anxiety levels and less stress," says Olmert.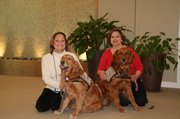 "Service dogs are beneficial to veterans in a myriad of ways. Their dogs help them remove shoes and socks, retrieve food and drinks from refrigerators, turn lights on and off, pull their wheelchair, assist them with anxiety when they are triggered by sights, sounds, smells or crowded areas and much more. They also help them become more social—the dog serves as a social lubricant and buffer between the Wounded Warrior and the public. These service dogs improve the quality of life for combat veterans by providing a constant and familiar source of support. Additionally, they aid a Warrior in his or her entry back into a non-combat world."
During the first week of the initial pilot program at the VA, Yount noticed a Marine sitting by himself looking sullen and depressed.
"Will you help me train service dogs to help other veterans? I could really use your help," Yount implored.
After some thought, the Marine replied, "I guess I can help, but I don't know anything about training dogs." The following day, a therapist asked the Marine if he liked working with the dog. The Marine responded, "Now I have a reason to get up in the morning." He had reconnected with meaning and purpose in his life and that, as he put it, "saved his life."
THIS MARINE, Sgt. Jon Gordon, has stepped up to help his fellow Wounded Warriors. He is now an intern at the NICoE in the service dog-training program. WCC's black Labrador retriever "Birdie" has become his training project. When Birdie started spending the night with Gordon, the combat veteran was finally able to sleep more than six hours a night without nightmares—a stark difference from his former sleep habits of five hours per week.
Sgt. Gordon said, "I taught Birdie to accept noises such as sirens and loud blasts—noises that used to freak me. He learned to open doors, deal with the unexpected and obey voice commands." After just six months in the training program, Sgt. Gordon now socializes with others, his demeanor is more positive and his 5-year-old daughter came to stay with him for the summer. "Training a dog is helpful in dealing with my daughter—there is a correlation between the skills that I need for parenting and for training my dog. I learned patience, to always give positive feedback and to use behavior modification techniques. Consistency is important too."
When asked how he will feel when he has to give the dog away, Sgt. Gordon states, "I know it will be like parting with my best friend. But I'm happy to have been able to do this for a fellow vet who needs him more than I do." When he leaves the program, Sgt. Gordon is planning to study occupational therapy in Michigan and continue training service dogs for fellow veterans.
To become involved in Warrior Canine Connection or to donate to this cause, view their website at www.warriorcanineconnection.org. For corporate donations or to discuss a major gift, call 301-260-1111.