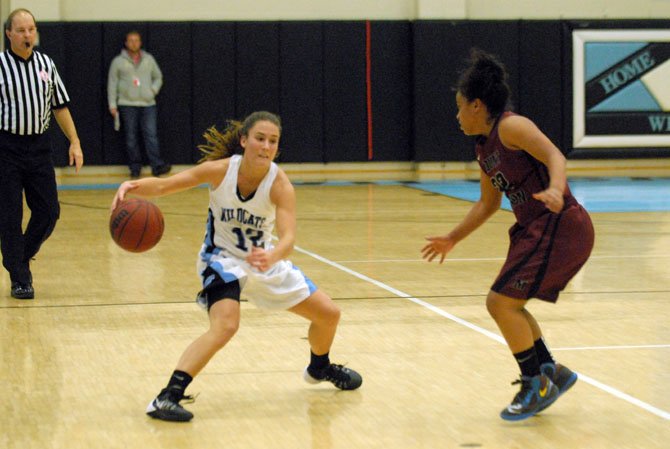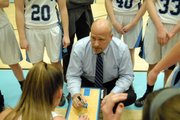 The Centreville girls' basketball team put on a less-than-stellar performance against Edison during the Wildcats' first scrimmage of the preseason. Centreville didn't get any better during its next scrimmage against South Lakes.
Reason for concern? Centreville head coach Tom Watson thought so.
"Our first scrimmage was against Edison. I thought we played a 'B' game the whole time," Watson said. "Then we scrimmaged against South Lakes and we didn't play very well at all, so I questioned the girls. I know that my girls have great skill sets, I know they're all good basketball players, but I didn't know if they had the fire in their stomach this year compared to last year."
Last year was Centreville's best season in two decades. Watson, then in his first season as the team's head coach, implemented an up-tempo style and led the Wildcats to a 24-3 record, the program's first district championship since 1993 and a trip to the regional semifinals. Despite several key players returning from last season, including William & Mary signee Jenna Green, Watson wondered if the Wildcats had the desire to win.
Until Tuesday.
Centreville opened the 2013-14 season with a 60-32 victory over Mount Vernon on Dec. 3 at Centreville High School. The Wildcats led 12-3 at the end of the first quarter and, thanks to a 15-0 run, built a 34-10 halftime advantage. The Wildcats forced more first-half turnovers (15) than the Majors scored points.
"Last year, they were really hungry for it," Watson said, "and I didn't know [if they had the same hunger] until around halftime. Around halftime, after watching them play defense against a very well-coached and very aggressive team, they got it. They are ready. They want this this year as bad as they wanted it last year."
"You hear all coaches talking about flying under the radar. I don't want to fly under the radar. I want people to worry about us, so I go out there and we push. I want people to know us."

--- Centreville girls' basketball coach Tom Watson
One reason for Centreville's success against Mount Vernon was the play of senior point guard Green, who finished with 16 points and nine assists. Watson praised No. 12's unselfishness.
"Jenna, she is a DI point guard," Watson said. "The things that she did to dish that ball off were so unselfish. Jenna could have had 25 points if she wanted, but she dished it out like she's supposed to and for that, she probably won't have all the points she had last year, but she's going to be a better player."
Green caught the attention of Mount Vernon head coach Courtney Coffer, as well.
"Jenna Green is the best point guard, to me, [for] public [schools], in this area," he said. "William & Mary is getting a special basketball player."
Green said she is trying to improve the play of others.
"I think as a point guard, it's important to make everyone around you better," she said, "and that's been my goal."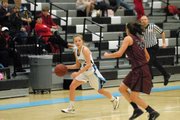 Centreville junior Chrissy Jacksta, who moved from center to small forward this season, finished with 12 points and five rebounds. Senior guard Ashley Brusick knocked down a trio of 3-pointers and finished with nine points. Senior guard Katie Blumer scored seven points and grabbed seven rebounds, and junior guard Caroline Wakefield finished with seven points and grabbed five rebounds.
Centreville will face Madison at 7:30 p.m. on Friday, Dec. 6 at South Lakes High School. The Wildcats will face Langley at 6:30 p.m. the following night, also at South Lakes.
"You hear all coaches talking about flying under the radar," Watson said. "I don't want to fly under the radar. I want people to worry about us, so I go out there and we push. I want people to know us."
The Wildcats' performance on Tuesday night made their coach take notice.
"Now, a lot of us our seniors and we've been playing together for years and years, so this is it," Green said. "We've got to leave it all out there. We've got something to prove every game."