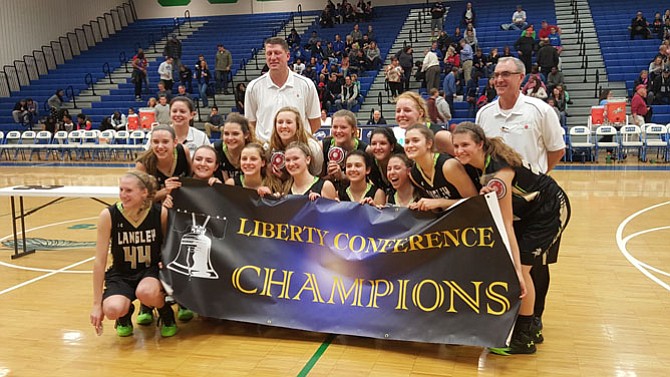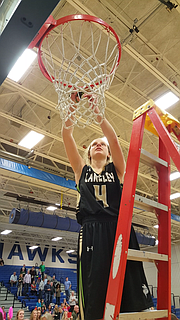 History would suggest that the Fairfax Rebels' 18-3 run to open the second half of the Conference 6 tournament championship game should have finished off Langley, which saw an eight-point lead turn into a seven-point deficit.
In terms of recent history, Fairfax entered Saturday's contest with an undefeated record, having beaten Langley twice during the regular season.
On a larger scale, the Saxons hadn't won a conference/district championship since 1988.
Despite facing unfavorable odds, Langley weathered the third-quarter storm and responded with a run of its own ­­­ a run that would end both Fairfax's 24-game win streak and the Saxons' 27-year title drought.
The Langley girls' basketball team outscored Fairfax 17-6 during the final 9-plus minutes and pulled out a 42-38 victory on Feb. 20 at South Lakes High School, giving the Saxons their first conference/district championship in nearly three decades.
"It feels amazing," Langley head coach Amanda Baker said. "I'm very proud of the kids. I'm very happy for them."
Langley's comeback started in the final 62 seconds of the third quarter. Trailing 32-25, the Saxons scored six straight points, including a pair of buckets by senior guard Lizzy Shamloo, to cut the Rebel lead to one entering the fourth.
Langley's run extended to 12-0 when senior guard and conference Co-Player of the Year Paige Galiani scored with 6:17 remaining, giving the Saxons a 37-32 advantage.
Fairfax would pull within one with a little more than a minute remaining, but a layup by Langley junior Ariana Aulisi and a free throw by Galiani helped secure the victory.
"We have some veteran players and they understand that this is a game of runs," Baker said. "We had a nice little run in the second quarter, Fairfax had theirs in the third, and so at the end of the third we just talked about wanting to have the last run."
Langley outscored Fairfax 14-4 in the second quarter and built a 22-14 halftime lead. Fairfax came alive in the third quarter, however, knocking down a trio of 3-pointers. Meanwhile, the Rebels' pressure defense made life difficult at times for the Saxons.
A 3-pointer by senior guard and first-team all-conference selection Jalita Montgomery gave the Rebels a 32-25 lead with 1:31 remaining in the third.
"I definitely think it was key to keep our energy up throughout that, like cheering on the bench and on the floor the entire time," Galiani said. "... We're definitely not a third-quarter team, so we didn't come out as strong as we had hoped, but we made it and we got through it and we came back. We had our streak right after theirs. It went pretty well, I would say."
Galiani led all scorers with 17 points and was named tournament MVP. She scored 12 of Langley's 14 points in the second quarter.
"She wanted it really bad and it showed," Baker said. "She played like a senior leader [and] Player of the Year."
Shamloo finished with 11 points ­­­ all in the second half.
Shamloo played "without any fear," Baker said. "She knew at the end to just go out and play and she wasn't worried about making or missing. She was just doing her thing."
Aulisi scored nine points for the Saxons and sophomore point guard Jordyn Callaghan added five.
Callaghan was selected to the all-tournament team.
Fairfax senior guard Noe'll Taylor, Co-Player of the Year in the conference, scored 13 points and Montgomery added 10.
Langley reached the conference tournament final last year, but lost to Madison. Why was this year's team able to win a title? Baker, in her fifth season with the Saxons, credited the development of player leadership.
"They lead themselves," Baker said. "I think early on I tried to lead too much, and now they're the ones driving the goals, driving the energy in practice. We're in a better position to win."
Langley hosts Centreville at 5:45 p.m. tonight in the opening round of the 6A North region tournament. What are the Saxons' expectations for regionals?
"At the beginning of the season, the goal was to position ourselves for championships," Baker said, "and I think we've done that and we're in a good position now to fight for a second one here."