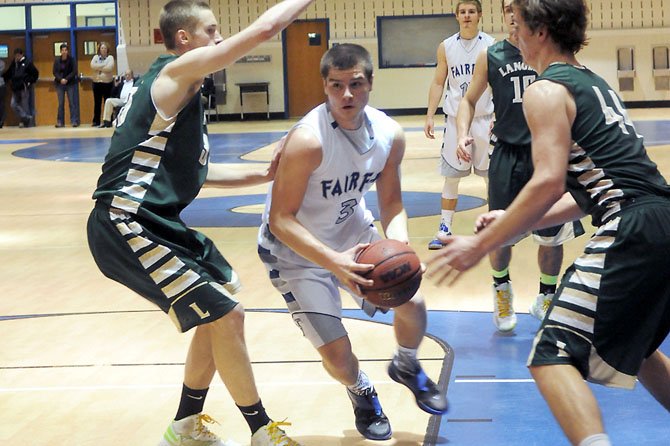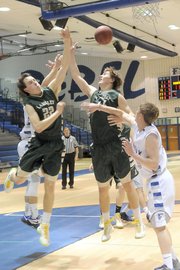 Fairfax — The Langley boys' basketball team trailed the Fairfax Rebels late in the third quarter when Saxons head coach Travis Hess shouted: "We have to match up! Who has Robic?"
To that point, none of the Saxons had been able to stop Fairfax guard John Robic, who was on his way to the free-throw line when Hess voiced concern from the Langley bench. Robic would knock down a pair from the foul line, giving him 19 points and the Rebels a nine-point lead.
Langley was slow in finding a way to defend Robic and fellow Fairfax guard Zack Burnett, who combined for 30 of the Rebels' first 36 points. But the Saxons eventually adjusted and forced Fairfax into a state of offensive ineptitude.
THE SAXONS limited the Rebels to one field goal during the game's final 11 minutes and overcame an 11-point deficit en route to a 49-40 victory on Jan. 26 at Fairfax High School.
Fairfax led by four at halftime and built a 33-22 lead with a seven to zero run to open the third quarter. But Langley outscored the Rebels 27-7 during the final 11 minutes, limiting Fairfax to four points in the final quarter.
After Robic, a six-foot-one guard, was able to score inside against Langley's zone defense in the first half, the Saxons switched to a man defense and applied full-court pressure in the third quarter.
"We talked at halftime and we knew we were in serious trouble if we stayed in the zone," Hess said. "We decided to come out and full-court press and play man, [even though] we haven't played man a single possession this season. That allowed us to get back in the game. Once we got a lead, we threw them a little bit of junk defense and they didn't handle it well and that was the difference in the basketball game."
"[Langley] dominated the last 11 minutes of the game."

--- Fairfax boys' basketball coach Mike Barbee
Robic and Burnett had success in the first half, accounting for all but one of the Rebels' points. Burnett buried a three-pointer with 43 seconds remaining in the second quarter to give Fairfax a 24-20 halftime advantage.
"In the first half, Robic and Burnett had 23 of their 24 points and we said we've got to make somebody else on their team beat us," Hess said. "We were able to do that."
Robic finished with a game-high 19 points but didn't score during the final 11 minutes. Burnett totaled 12 points, including a trio of 3-pointers, but had only one point in the second half. Junior forward Brian Monter added seven points.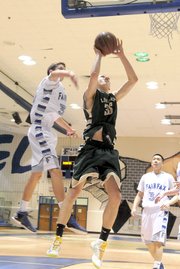 "We just didn't know how to react to [Langley's defense]," Robic said. "It was more [that] we were startled. … We were just confused on offense."
The Saxons stepped up late in the third quarter while Fairfax faded. Langley closed the period on a nine to two run, including a pair of buckets by senior Justin Galiani, which cut the Fairfax lead to 36-33 entering the fourth quarter.
A Galiani bucket with 3:17 remaining in the contest gave Langley a 42-40 lead it would not relinquish. The Saxons held the Rebels scoreless for the final 5 minutes, 26 seconds of the contest.
Said Fairfax head coach Mike Barbee: "[Langley] dominated the last 11 minutes of the game."
Junior guard Garrett Collier led Langley with 13 points. His three-point play in the opening minute of the fourth quarter tied the score at 36-all. Junior guard Ross Callaghan scored 12 points for the Saxons, Galiani finished with 10 and senior post Brad Dotson had nine points and 11 rebounds.
LANGLEY EXTENDED ITS WINNING STREAK to six games and improved its record to 15-3, including a first-place Liberty District mark of eight to two. Fairfax won the earlier meeting between the teams, 49-37, on Dec. 21.
"We kind of focused on this game of all games, even more than the McLean [rivalry] game," Collier said. "We had this one marked and we really wanted to get this win."
Fairfax dropped to 7-11 overall and five to five in the district. The Rebels host South Lakes at 7:30 p.m. today. Fairfax will travel to face Stone Bridge at 5:45 p.m. on Friday, Feb. 1.
Langley hosts Stone Bridge at 7:30 p.m. today. The Saxons will travel to face Madison at 7:30 p.m. on Friday, Feb. 1.