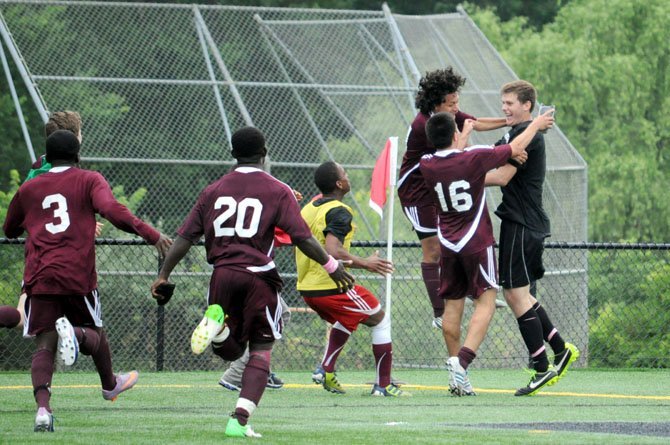 The year 2013 provided several exciting moments in local sports. The Mount Vernon boys' soccer team won a state championship. Mount Vernon's Bill Adusei and West Potomac's William Rupp each won a state wrestling title and West Potomac's Katie Genuario earned all-state cross country honors.
Here is a look at the top moments in Mount Vernon sports for 2013.
Mount Vernon Boys' Soccer Wins State Championship
The Mount Vernon boys' soccer team lived on the edge during the 2013 postseason.
Three times the Majors' playoff hopes came down to a penalty-kick shootout, including the AAA state championship game against Cosby. Each time, Mount Vernon came out on top — thanks in large part to goalkeeper Lucas Belanger.
In the state final on June 9, Cosby had an opportunity to win the shootout but Belanger came up with a save. After each team converted its next chance, Mount Vernon's Erik Rodriguez put his attempt in the net to put the pressure back on the Titans. With Cosby needing a successful PK to extend the shootout, Belanger came up with another save, ending the match with a 0-0 (6-5) Majors victory and giving Mount Vernon its first team state championship since the football team won it all in 1983.
"I'm actually in shock that we did it," Mount Vernon head coach Tony Garza said after the game. "I'm shocked that we put it all together. We came in with eight losses — the most losses a state tournament team had — and we prevailed and went all the way through, so it was great."
Mount Vernon finished the season with a 14-8-1 record and won the National District championship. The Majors overcame a 3-7-1 start to the season due in part to the additions of Belanger and forward Rahim Costa-Dorsey, who had each been playing academy soccer.
"The biggest thing, though, is for the boys and the community," Garza said after the state final. "When we go to away games to schools out west — no disrespect to any of the schools out west — but a lot of boys, they hear stuff [from people] — you're Route 1 trash, you're poor. Some of the boys, they block it out. The Route 1 corridor, the community of Route 1 and Mount Vernon needed this win. We needed that [winning feeling]."
Mount Vernon's Adusei, West Potomac's Rupp Win State Titles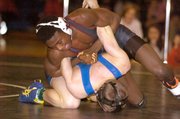 A pair of grapplers from the Mount Vernon area captured state championships in 2013.
Mount Vernon's Bill Adusei, then a freshman, and West Potomac's William Rupp, then a senior, won state titles in their respective weight classes. Adusei won National District, Northern Region and state titles in the 126-pound weight class and finished with a 32-2 record. He placed third at nationals and became a freshman All-American.
"Adusei is a great kid who teaches in the room and is a total team leader," Mount Vernon head coach Anthony McDuffie wrote in an email, "even as a freshman."
Rupp won Patriot District, Northern Region and state titles in the 220-pound weight class and finished the season with a 42-0 record.
"I feel like, especially coming into this season, no one really knew who I was," Rupp said after winning states, "and I really had to throw myself out there …"
West Potomac Harrier Genuario Earns All-State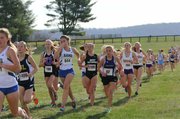 Katie Genuario finished 23rd at the 2012 state cross country meet. One year later, the West Potomac senior improved by 12 places and earned all-state honors.
Genuario placed 11th in 6A at the VHSL state cross country meet on Nov. 15 at Great Meadow.
"I think it's always been my goal to somehow make it [in the] top 15 and it feels awesome that I finally accomplished that," Genuario said at the state meet. "Our region is really tough and to only finish a few places behind last week [at regionals] is amazing."
Genuario finished with a time of 18:24, 40 seconds faster than her time of 19:04 at the 2012 state meet.