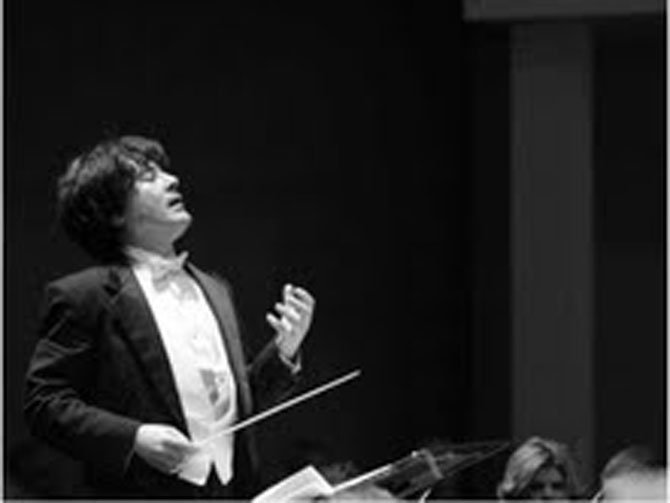 Alexandria — It's hard to believe that it's my 25th anniversary as Music Director of the Alexandria Symphony Orchestra. The centerpiece of my anniversary year will be the world premiere of an epic symphonic piece composed by yours truly and my wife, Kathryn Vassar Kluge. River Poem will receive its premiere at the ASO's Feb. 9 and 10 concerts. During these performances I will be honoring all of you who have helped me and the ASO during my tenure as Music Director of the Alexandria Symphony Orchestra, and for me, the most meaningful way to thank you is through music.
The most frequent question that I receive these days is "How exactly do you and Kathryn compose music together? Isn't that really difficult?" To be quite honest I don't know how we do it.
The whole process of musical creation is such a mystery and it becomes doubly mysterious when creating music with another person. Composing music is the most personal thing that I do, so writing music with Kathryn is an intensely intimate and revealing process and it makes me feel at my most vulnerable.
When we were commissioned by Virginia Bronze to write this big orchestral piece we decided to honor Alexandria. We took our inspiration from a very personal place in our shared lives — our beloved long walks along Alexandria's magical waterfront. On these daily walks along the Alexandria waterfront we became incredibly fond of the Potomac and more attuned to the many shifting moods of this majestic and historic river as the light changed at different times of day.
Sometimes it seemed almost as if the Potomac was speaking directly to us — sharing its secrets and stories. The stories of past and current Alexandrians seemed to come alive — their spirits and voices living and flowing perpetually through the Potomac.
Bells are used in cultures throughout the world to invoke the spiritual realm, and the bells in River Poem are used to invoke the voices and spirits of Alexandrians — past and present.
At the world premiere the bells will be placed in different locations on the stage and the balcony to simulate the sound of voices rising from the river. Sometimes gigantic bells will be struck with mallets like a surreally oversized xylophone. Sometimes the bells will be rung. Sometimes they will be hit with chopsticks. Sometimes their eerie voices will be initiated like Tibetan singing bowls. But always they will be integrated into the majestically flowing symphonic textures of the orchestra and double chorus, as sung by The Alexandria Choral Society and Heritage Signature Chorale.
River Poem sounds so very dramatic and so personal because its inspiration comes from a very personal place within both myself and Kathryn. What I can say about the joint-composing process is that we collaborate on every aspect of writing, from the initial discussions about the concept and the sound world, to the writing of melodies, to the choice of orchestral colors and instruments. It is sometimes a difficult and complicated process but I can honestly say that we elicit the best music from one another — a gift indeed.
I'll see you at the concert!