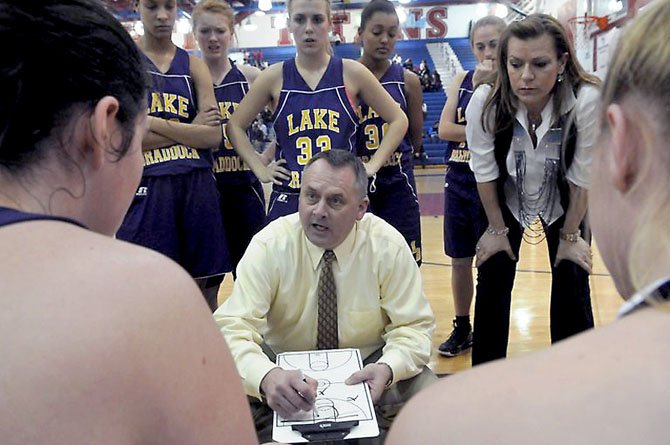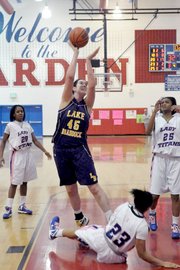 Alexandria — The T.C. Williams girls' basketball team this season snapped a nine-game losing streak against West Springfield, twice beating the three-time defending Patriot District champion during the month of January.
Defeating West Springfield for the first time since 2009 gave TC an opportunity to earn the No. 1 seed in this year's district tournament. But the Titans' journey to the top of the district standings was derailed on Tuesday night by Lake Braddock's 6-foot-4 matchup nightmare.
NATALIE BUTLER scored 29 points, grabbed 22 rebounds and blocked seven shots as the Bruins defeated the Titans 56-54 in overtime on Tuesday, Feb. 5, at T.C. Williams High School.
Along with being a force in the paint, Butler, a 6-foot-4 senior who will play at Georgetown University next season, made four clutch free throws to help Lake Braddock move into a second-place tie with T.C. Williams. West Springfield sits atop the district standings with an 11-2 record, followed by the Bruins and Titans at 10-3. Lake Braddock would win a head-to-head tiebreaker with TC, having won both regular season meetings with the Titans.
Lake Braddock led 53-52 when junior Caitlyn Mandela went to the free-throw line with 13.6 seconds remaining in overtime. Mandela made her first attempt and missed the second. Butler grabbed the rebound, drew a foul and put the game out of reach by knocking down both foul shots. The Titans added a meaningless bucket in the closing seconds.
"I just really wanted to win and the team did a great job and I didn't want to let the team down. I sort of blocked everything out and just told myself, they're just two free throws—make them and move on."

—Lake Braddock senior Natalie Butler
"I knew that the crowd was going to be loud and that there was going to be lots of distractions and a lot of pressure," Butler said about her game-clinching free throws. "I just really wanted to win and the team did a great job and I didn't want to let the team down. I sort of blocked everything out and just told myself, they're just two free throws—make them and move on."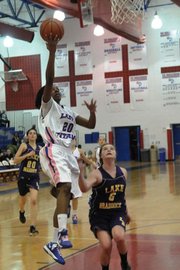 Butler also made a pair of free throws to tie the score at 45-all with 41.4 seconds remaining in regulation. She finished the evening seven-for-nine at the foul line.
While Butler came up clutch at the charity stripe, it was her production in the paint during the second half that gave the Bruins a chance to win. After Butler totaled just five points in the first half, including a scoreless second quarter, Lake Braddock coach John Giannelli said the Bruins made an effort to get the ball inside.
"In the first half, we didn't look inside at all and we didn't swing the ball at all," Giannelli said. "We came in at halftime, we talked to Nat and we decided we need to swing the ball quicker and then Nat switches from post to post and then we get the ball inside or we swing it back. Our main goal was to get the ball inside to Nat. The more we swung the ball, the better chance we had to get it into her."
Butler responded with nine points in the third quarter, nine in the fourth and six in overtime.
T.C. Williams head coach Kesha Walton said the Titans tried to keep Butler from catching the ball down low. Six-foot sophomore Grace Patterson and 5-foot-10 senior Baylee Simpson battled in the paint, but it wasn't enough. In the teams' first meeting, Butler scored 40 points and grabbed 31 rebounds during a 76-65 victory against TC on Jan. 11, according to stats from the Washington Post's website.
"Baylee fought as hard as she could. … Grace got out there and did the best that she could as far as banging [Butler]," Walton said. "That was our game plan: we knew we had to contain her if we wanted to come out successful tonight. … She's a legit 6-4. Even if she catches the ball, there's nothing we can do but foul, so our goal is to try to keep it away from her as much as we can."
"I told [the Titans] to keep their heads up [after the game]. Remember this feeling because we'll have to see them again. It's a tough loss and we have to see them in order to go to the district championship."

—T.C. Williams girls' basketball coach Kesha Walton
Junior guard Betsy Gallier scored 11 points for Lake Braddock. Junior guard Aryn Burrage scored six points and sophomore guard Christine McGrath finished with five.
LAKE BRADDOCK improved to 14-5 and extended its winning streak to five games. Tuesday was Giannelli's fourth game filling in for head coach Leigh Janis, who recently had a child.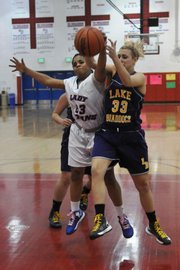 Butler said the Bruins have handled the coaching transition well and she's pleased with the team's success. Lake Braddock finished 7-15 her sophomore season and 9-15 last year.
Giannelli, who came to Lake Braddock from Centreville this season, started the year as a varsity assistant and the head JV coach.
"Being on varsity since [I was] a sophomore, we weren't a threat," Butler said. "It's unbelievable to be a threat now in my senior year. It's great experience. There's a lot of pressure that comes with it, but I love it and I can't wait to play in the next game. Coach G has done a great job with Coach Janis. I think he blended perfectly with the team. There were no issues whatsoever. The girls respected him as a head coach and we all came to practice every day ready to work."
TC fell to 13-8. The Titans entered the contest having won their last three games and six of their previous seven. Sophomore guard Rejoice Spivey led TC with 26 points. Patterson finished with 11 points, and senior guard Christian Roberts and junior guard Angie Schedler each added six. Simpson finished with two points and 10 rebounds.
TC will close the regular season with a road game against Annandale at 5:30 p.m. on Thursday, Feb. 7. Lake Braddock will host West Potomac at 7:30 p.m. on Friday, Feb. 8.
"I told [the Titans] to keep their heads up [after the game]," Walton said. "Remember this feeling because we'll have to see them again. It's a tough loss and we have to see them in order to go to the district championship."