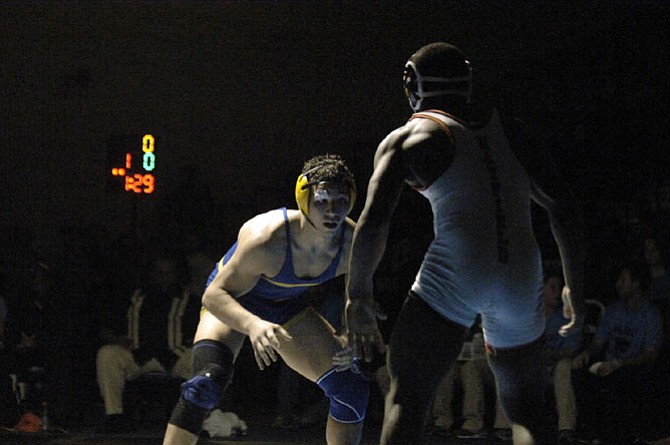 Trailing 2-1 with seconds remaining in the 182-pound region final, Robinson wrestler Cole DePasquale masterfully timed his escape from defeat.
Starting from bottom position, DePasquale timed his lunge perfectly with the referee's starting whistle and worked free from Hayfield's Antonio Agee with 6 seconds remaining in overtime, earning one point for an escape while forcing an ultimate tiebreaker.
DePasquale would secure the win with another escape, capturing his second region championship with a 3-2 victory on Feb. 14 at Centreville High School.
"You go when [the referee] inhales --- right before he exhales in the whistle," DePasquale said. "You've got to time it just right. I'm glad I got a head start on him and I was really fortunate."
DePasquale received a cut above his right eye during the first day of the regional tournament. The cut re-opened during his match against Agee, leading to multiple blood-time stoppages.
DePasquale at first had gauze placed over his right eye and eventually had a wrap around his head, limiting his peripheral vision. DePasquale, who missed nine months due to injury, also battled fatigue, having been back with the Rams for less than a month.
"I knew Agee was going to be tough; I knew he was a really good wrestler," DePasquale said. "I'm just glad with my limited training I was able to come away with the win."
Robinson's Austin Riggs won the 145-pound title, beating Osbourn Park's David Sniffen, 10-3.
DePasquale and Riggs helped the Rams finish third in the team standings with a score of 141. Battlefield won the team title with a score of 188.5, and Osbourn Park placed second (142.5).
Hayfield finished ninth (83), South County 10th (77), and Lake Braddock 11th (69).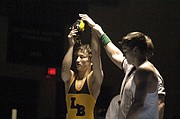 Lake Braddock's Ryan Haskett captured his third region championship, finishing atop the 126-pound bracket.
Haskett defeated Annandale's Alex Joya, 2-1.
"It was a low-scoring match," Haskett said, "but I felt I was in control the whole time."
Haskett, who finished state runner-up at 120 in 2014, said he is motivated by the way last season ended.
"Every day I think about last year [and how] I was runner-up," Haskett said. "[I will likely have] the same kid (Colonial Forge's Joshua Nail) this year [in] the state finals. [It] motivates me every day. This time I'm gonna win it."
Other individual winners include: Patriot's Killian Cardinale (106), Centreville's Victor Echeverria (113). Battlefield's River Curtis (120), Westfield's Justin Yorkdale (132), Ryan Yorkdale (138) and Austin Knies (285), McLean's Conor Grammes (152) and Mack McCune (170), West Potomac's Joshua Carter (160), Centreville's Tyler Love (195) and Annandale's Tony Gibbs (220).
Love, the defending 195-pound state champion, received the tournament's Most Outstanding Wrestler award, and was recognized for pinning three opponents in a combined 2 minutes, 6 seconds.
The state meet is scheduled for Feb. 20-21 at Robinson Secondary School.