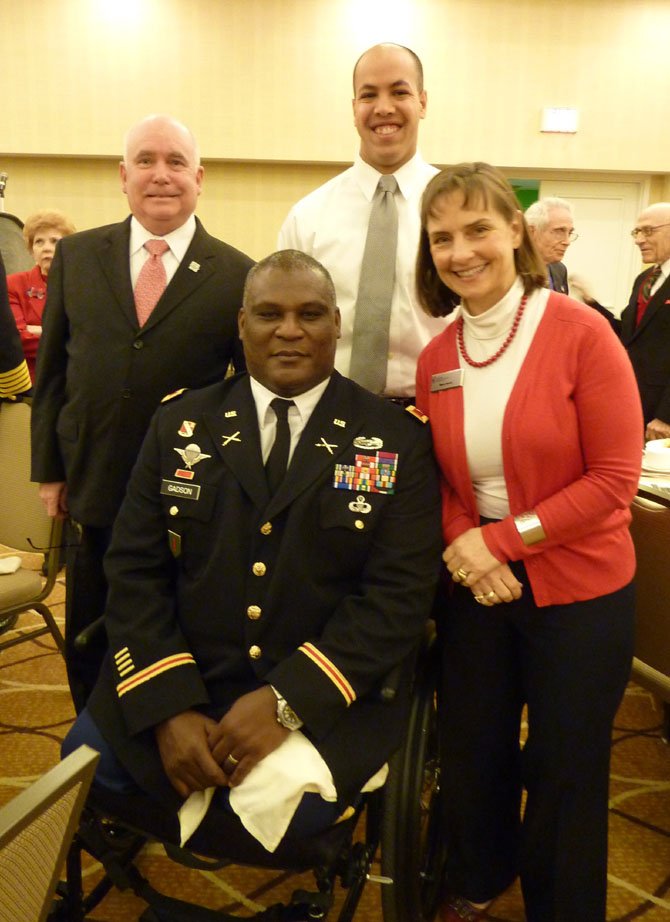 Alexandria — The Friendship Veterans Fire Engine Association held its annual breakfast Feb. 18 at the Holiday Inn and Suites in Old Town in the traditional kick-off to the city's George Washington Birthday Parade celebrations.
Highlighted by a keynote address by Fort Belvoir Garrison Commander Col. Gregory Gadson, the breakfast featured the presentation of the Rev. Ben Lynt Distinguished Service Award to Senior Services of Alexandria Executive Director Janet Barnett.
"Thank you so much for this honor," said Barnett, who received the award from Friendship Veterans Fire Engine Association board member David Baker.
In addition to Gadson, Don De Haven as Gen. George Washington and Fire Chief Adam Thiel addressed the crowd of dignitaries that included Gen. Bruce Scott (ret.) and his wife Mary, whose father, Gen. Richard Tallman, was the last general to be killed in action in the Vietnam conflict.
"George Washington was a man of his time," said Gadson, the first double amputee to command a major Army installation. "He was the original American Idol and those of us who live and work in the shadow of Mount Vernon celebrate his life with a special pride."
A resident of Mount Vernon, Gadson noted that it was his injury that brought him to Alexandria.
"I was wounded six years ago and my recovery brought me back to Northern Virginia," Gadson said. "My wife Kim and I decided to make our home here — we're invested here and feel it's important to be a part of the community."
Gadson closed his remarks by noting that America remains a beacon to other nations because of Washington's influence.
"The name George Washington is associated with strength and honesty," Gadson said. "No doubt America would not be the beacon of democracy that it is today if not for George Washington."
For more information on the Friendship Veterans Fire Engine Association, visit www.friendshipfire.net.