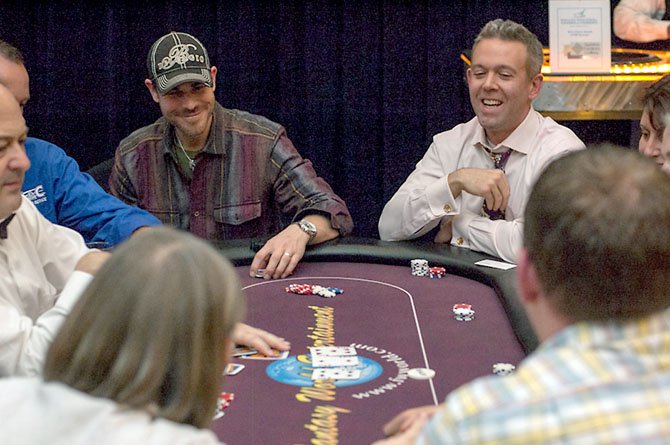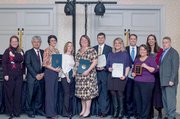 The Dulles Regional Chamber of Commerce's annual Casino Royale event evidenced great success on Feb. 8, packing a ballroom at the Westfields Marriott in Chantilly with guests eager to support education in Fairfax County.
Chamber members, sponsors, and Fairfax County Public School educators enjoyed the evening, raising more than $10,000 for homeless children in Fairfax County and honoring seven area educators who were presented with the chamber's Educator of the Year Award.
"It is an exceptional moment when meeting needs and filling voids in our community intersects with providing an evening of fun for so many people," said Dulles Regional Chamber of Commerce President Eileen Curtis.
Presented by Title Sponsor Kaiser Permanente, the evening featured elegant fare, dancing, a silent auction, and state-of-the-art blackjack tables, roulette wheels, and craps tables.
To kick off the event, seven area teachers received the chamber's Educator of the Year Award, including Whitney Branisteanu from Dranesville Elementary School, Hallie Case from Herndon Middle School, Barbara Clougherty from Chantilly High School, Jen Howe from Chantilly Academy, Jeff Jones from Mountain View High School, Cheryl McGovern from Herndon Elementary School, Kelly Mosgrove from Ormond Stone Middle School, Amy Balint from Centreville High School, and Kay Ward from Liberty Middle School.
These honored educators also received a commendation from U.S. Rep. Gerry Connolly (D-11), presented by a representative from his office, praising them for their exceptional effort and achievement.
Many guests placed their safest bet of the evening by purchasing a brick, door, window, or roof tile to help build a digital brick house. For each purchase, 100 percent of the proceeds went to the Fairfax County Public Schools Homeless Liaison Office, which supports the more than 2,000 homeless children in the county.
Doubling guests' money, an anonymous donor matched all of the evening's digital house purchases, bringing the total donations for homeless children in Fairfax County to more than $10,000.
In addition to the money raised to benefit homeless children in Fairfax County, the evening also saw $6,000 raised for STEM Scholarships through a donation by Systems Furniture Gallery.
"It was thrilling to see that we not only accomplished our goals, but were able to double the donations," said Premier Realty Group Vice President Gina Poindexter, who served as chair of the Casino Royale Committee and was instrumental in organizing the evening and bringing about its success.
Sponsors for the evening included Title Sponsor Kaiser Permanente, Host Sponsor Westfields Marriott, STEM Sponsor Systems Furniture Gallery, Entertainment Sponsor Fantasy World Entertainment, Educator Sponsor Infinity QS, Music Sponsor Talk of the Town, and Valet Sponsor Horizon Consulting.