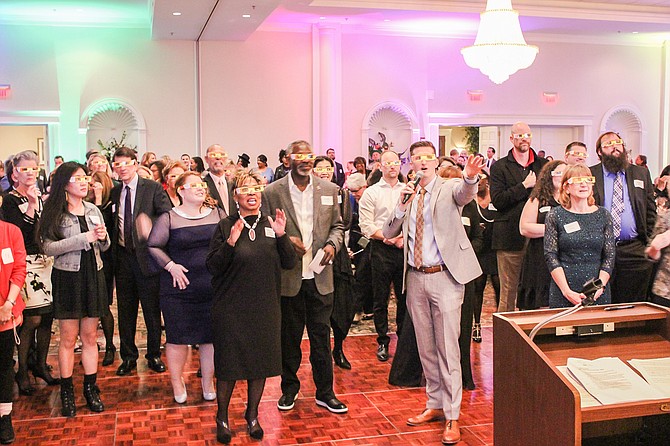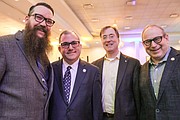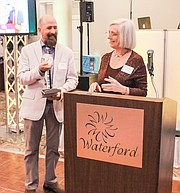 More than 250 people gathered at the Waterford Receptions in Springfield on March 16 for New Hope Housing's Spring fundraiser: "80s Night at the Casino." Over $160,000 was raised to support New Hope Housing's mission to end homelessness and help move homeless neighbors from homelessness to a home.
Greg Garcia was presented with New Hope Housing's "Good Neighbor" award for his years of philanthropy and for his inclusive writing that demonstrates dignity and respect for all people. Currently the creator, producer, and writer of "The Guest Book" on TBS, he is also the creator of "My Name is Earl," "Raising Hope", and "Yes, Dear," and the writer of the Jimmy Buffett musical, "Escape to Margaritaville."
An Arlington native, Garcia graduated from Frostburg State University in 1992 and moved to Los Angeles to participate in the Warner Brothers Writing Program. After completion, he began working on a number of hit TV shows before he created "Yes, Dear" in 2000. Since then, he has received an Emmy for comedy, and has twice received a GLAAD award for an episode each of "My Name is Earl" and "Raising Hope." The GLAAD Media Award recognizes outstanding representations of the LGBTQ community and issues that affect their lives. His current show, "The Guest Book," won a GLAAD award this year. "My Name is Earl" also received a Humanitas Award, which is awarded to film and television writing intended to promote human dignity, meaning, and freedom.
Garcia's path first intersected with New Hope Housing when a team of cast members from his show "My Name is Earl" competed on "Celebrity Family Feud" in 2008. The winnings would be given to a charity of the team's choice.
Garcia wanted to give back home in Northern Virginia and called his mom, Natalie Garcia. She recommended New Hope Housing. "My Name is Earl" won $10,000 on the show and donated to NHH. "That was the beginning of a beautiful friendship," said Pamela L. Michell, executive director of New Hope Housing.
During the presentation, Michell also said, "We applaud Greg for his inclusive writing that demonstrates dignity and respect for all, values that are so important at New Hope Housing."
State Sen. Adam Ebbin presented Garcia with a Virginia flag that had previously flown over the state capitol building in thanks for remembering his roots in Northern Virginia, adding "you may be the only person in Hollywood flying a Virginia flag on your front lawn."
A video was shown of Suequita Williams in which she shared her struggles with homelessness and trying to take care of her young son while living out of her car. Williams moved into a New Hope Housing apartment over a year ago and has been working to rebuild her health and reconnect with her now adult son. She spoke live after the video to thank everyone for their support of people who have been in her situation.
Diamond Club Sponsors were Greg and Kim Garcia. Platinum Sponsors were United Bank, Kaiser Permanente, Modern Technology Solutions, Inc., Phil & Peg Soucy, and Rob & Lorraine Lavet. Thirty-four additional families and businesses also sponsored this event.
Everything Entertainment from Rockville, Md, provided DJ services, casino gaming, and motivational dancers to get everyone up and dancing to tunes from the 80s. Swisher Auctions provided the auctioneer for our Live Auction and Fund-A-Need Auction which itself raised over $27,000 for NHH's Home & Bright Future Fund to rapidly house homeless individuals.
New Hope Housing is a nonprofit agency providing shelter, transitional and permanent supportive housing, outreach and support services for homeless families and single adults in Fairfax County, City of Alexandria, Arlington County, and City of Falls Church. See www.newhopehousing.org.